Visiting Brussels with PH
Sarah Marshall has lived with PH since 2014 and recently enjoyed a much longed-for trip to visit a friend in Belgium. She has kindly allowed us to reproduce this blog from her website.
This time ten years ago, I was packing up my home and job and life, in readiness for a move to Ethiopia. At the same time, one of my best friends was also boxing up her world, and preparing to move to Belgium. Neither of us had worked in those countries before, so we were nervous… and excited.
I remember sitting in her bedroom a couple of days before my flight, talking packing lists and teabags and what books we were going to take. Both of us swinging wildly between trepidation and joy. As we said our goodbyes, I told her I'd visit her over the Channel, when we were back. But then when I returned, I developed Pulmonary Hypertension… and that stopped everything for a while. So for the past ten years, the closest I've got to seeing her new European life, is through her photos and stories. Until last weekend. I finally made it to Brussels. ?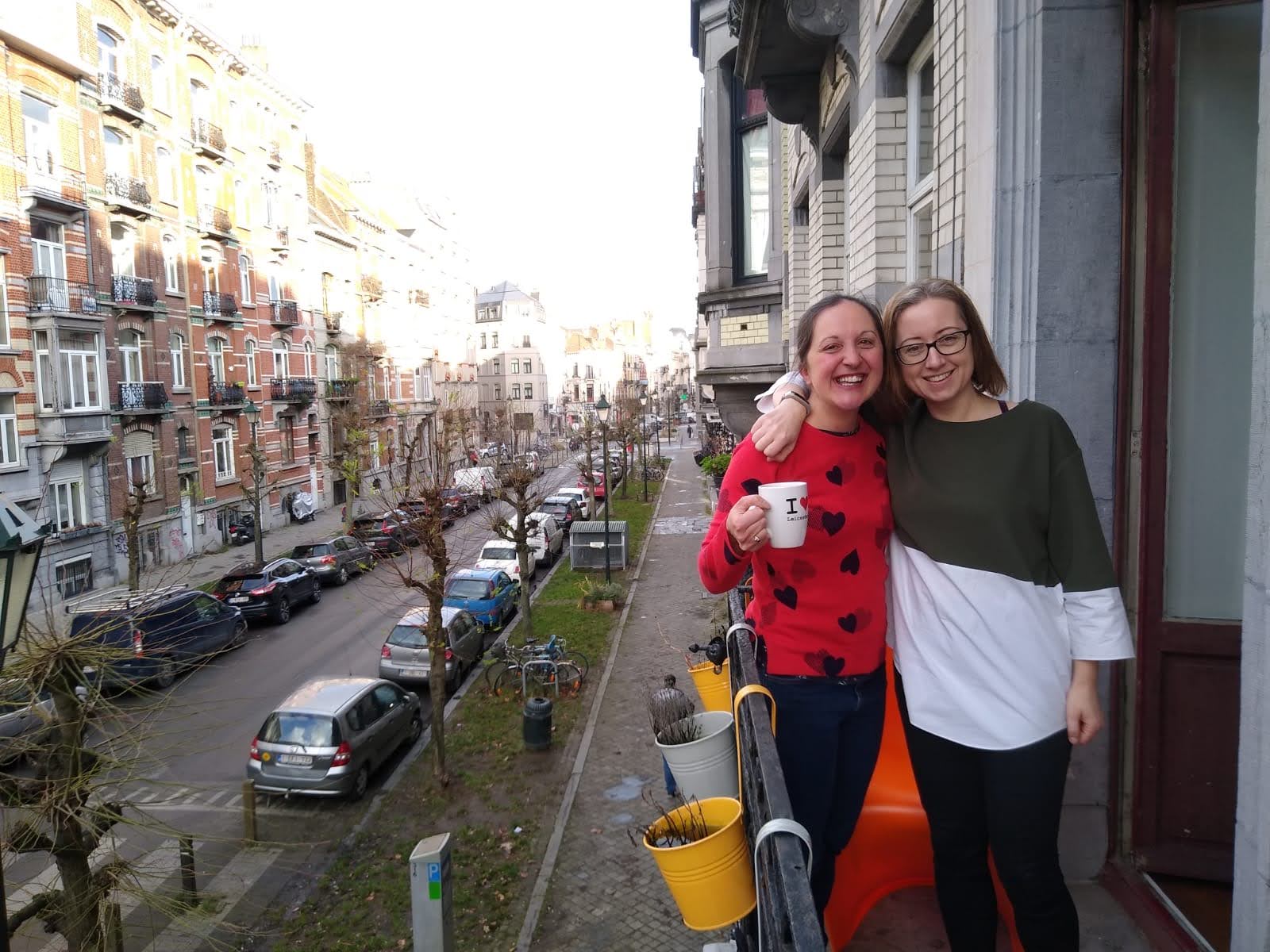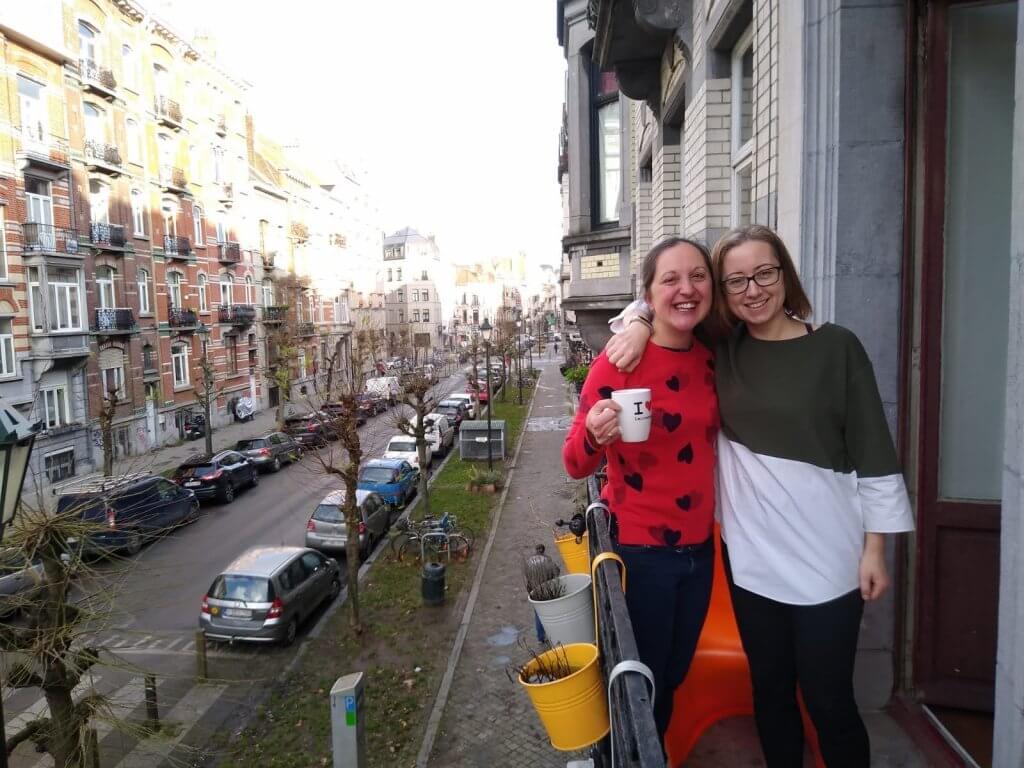 Sal is one of my best and oldest friends. We met as five year olds at primary school, and have walked by each other's side through life ever since. For the last thirty-five years, she has been there for it all. From learning to abseil as little children, to learning to drink as teenagers. From learning all the secret rules of Shithead, to learning to adult. We bounced on bouncy castles together, revised for exams together, moaned about menial jobs together. We shared our first nights out clubbing, our first parent-free holiday abroad, our first city centre flat. Over the years we've drank thousands of cups of tea! And she was by my side, one of my beautiful bridesmaids, when I married Phil.
So when she moved to Brussels, I assumed I'd be a frequent visitor. City breaks with one of my besties! But then a year after returning from my adventure abroad, I developed PH and that stopped all those plans. Realistically Brussels is not a great distance away, but for the first few years of my illness, it felt impossible to reach. Getting poorly had massively whacked my confidence. I didn't understand my body, I didn't understand my triggers, so I was scared of becoming unexpectedly ill in a foreign country. Eventually I managed to cross The Channel to France; staying in quiet places with a language I understood. But Brussels still seemed a step too far. It was too long a journey, too alien a language, too busy a city, too many miles from my hospital. I couldn't imagine staying with my friend and seeing the sites, when I had limited energy and sensory overload.
Later, when I got put on the transplant list, all trips abroad were out. And then when I came off it, and was psychologically ready to visit at long last… my penciled-in-date came and went as I suddenly developed hyper-sensitive and reactive lungs. So I've spent the last seven years of illness yearning to visit, yearning to sit on her famous balcony and drink tea… but never getting there.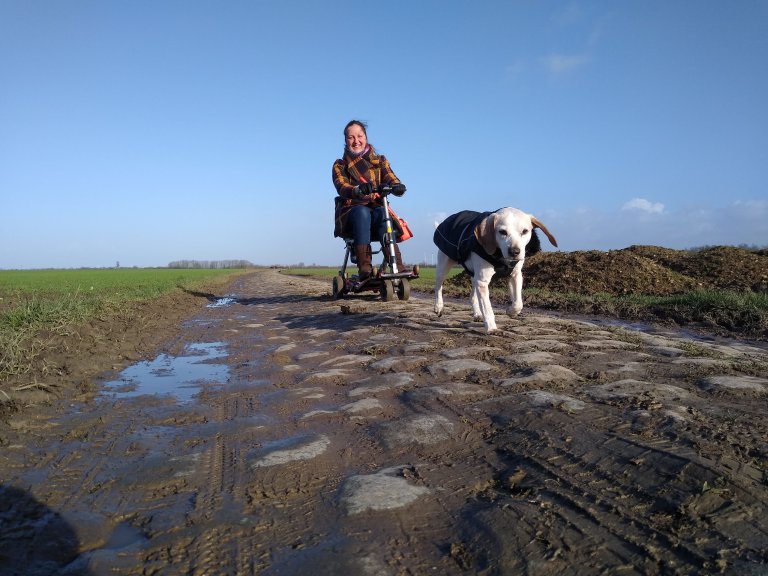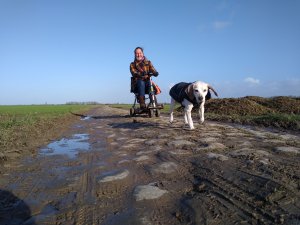 And that always upset me. 'Cause you learn so much about a person's life through their home. Until Sal moved to Brussels, I had visited every house she'd ever lived in. I'd drank tea and chatted about boys and watched cheesy TV all over. Thankfully though, we have remained close, we still regularly hang out; as every few months she kindly 'pops over' to see me. ? Once when I was ill and couldn't cope with visitors for very long, she happily stayed for a mere hour. Fourteen hours of travelling for just sixty minutes of hanging out! So incredibly kind! And due to WhatsApp, we can still share our day to day lives, even though we live 499 km apart.
But photos and messages are not the same as seeing things in reality. I wanted to nosy at the books on her shelves, the photos in her frames, the pictures on her walls. I wanted to see where she had called home this past decade.And a fortnight ago I did. For the first time in a decade, all the stars aligned… and we successfully ventured across The Channel to the land of waffles and beer and chocolate.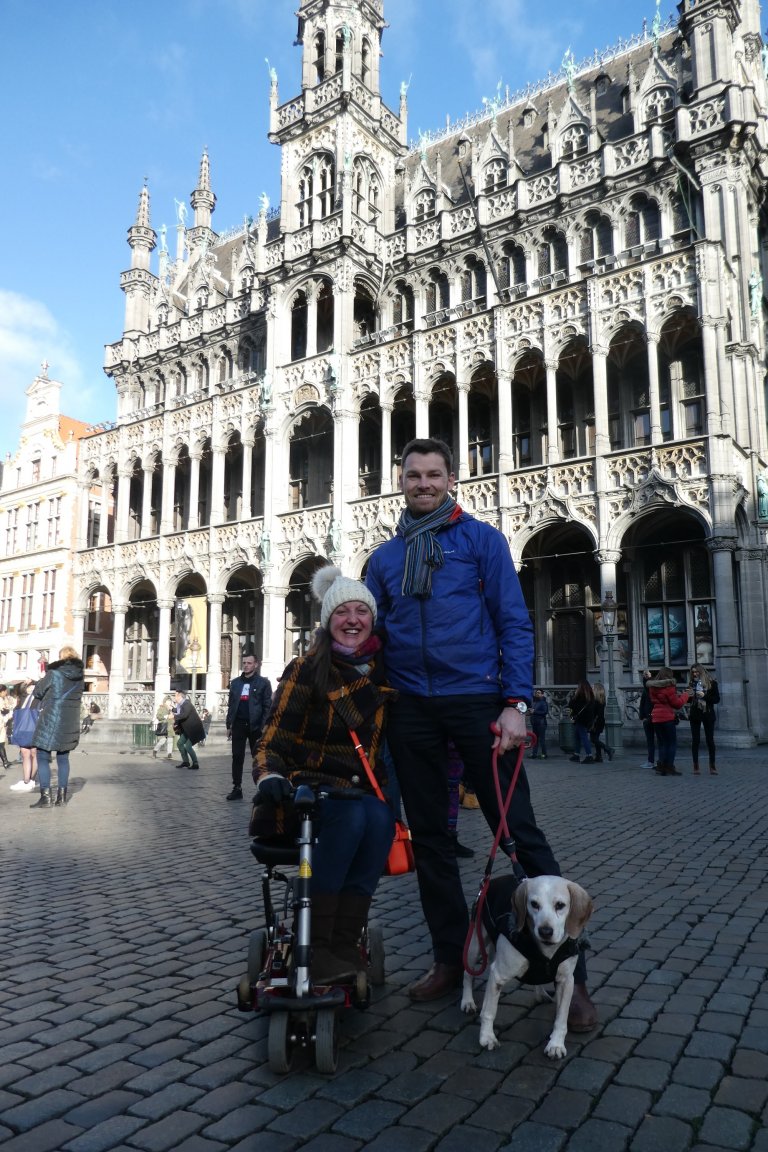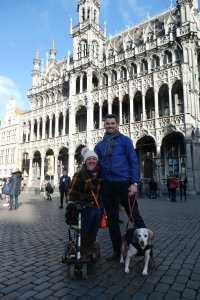 Well actually we went under The Channel. The Eurotunnel was a revelation! Perfect for my limited energy: I didn't need to get out of the car, and within thirty minutes we were driving through the French countryside, searching for croissants! And within a few hours she was waving at us from the kerbside. Her apartment was beautiful and so European. Think high ceilings, tall windows, cast iron balcony. And it was a fantastic weekend. Really awesome. My wonderful body was on top form. I was able to do even more catching up and visiting and exploring than I'd hoped for. Fourth gear.
We visited the Grand-Place, the Manneken Pis, and explored so many of the cobbled streets of her home city. We admired the green parakeets in her local park, ate in her local cafes, and sampled some very stinky cheese from the shop at the end of her street. We ate waffles and crepes and Compte dipped in mustard and barley (a very delicious bar snack). And Phil loved sampling the famous Belgium beers. And on the way home, my wonderful body even had enough energy to search out a few notorious sections of pave (cobbled tracks) from the famous Paris-Roubaix bike race. Our poor car made scraping and banging noises when we drove her down one (!), but my brilliant scooter took it all in her stride. ?
So it was brilliant to finally experience Brussels. And even more fabulous to finally hang out in Sal's home. I got to see her pictures and books and plants and mugs and shoes and dead herbs and gorgeous wooden table. And I got to drink tea on her balcony. Happy happy days. Gelukkige gelukkige dagen. ?
Read more from Sarah on her blog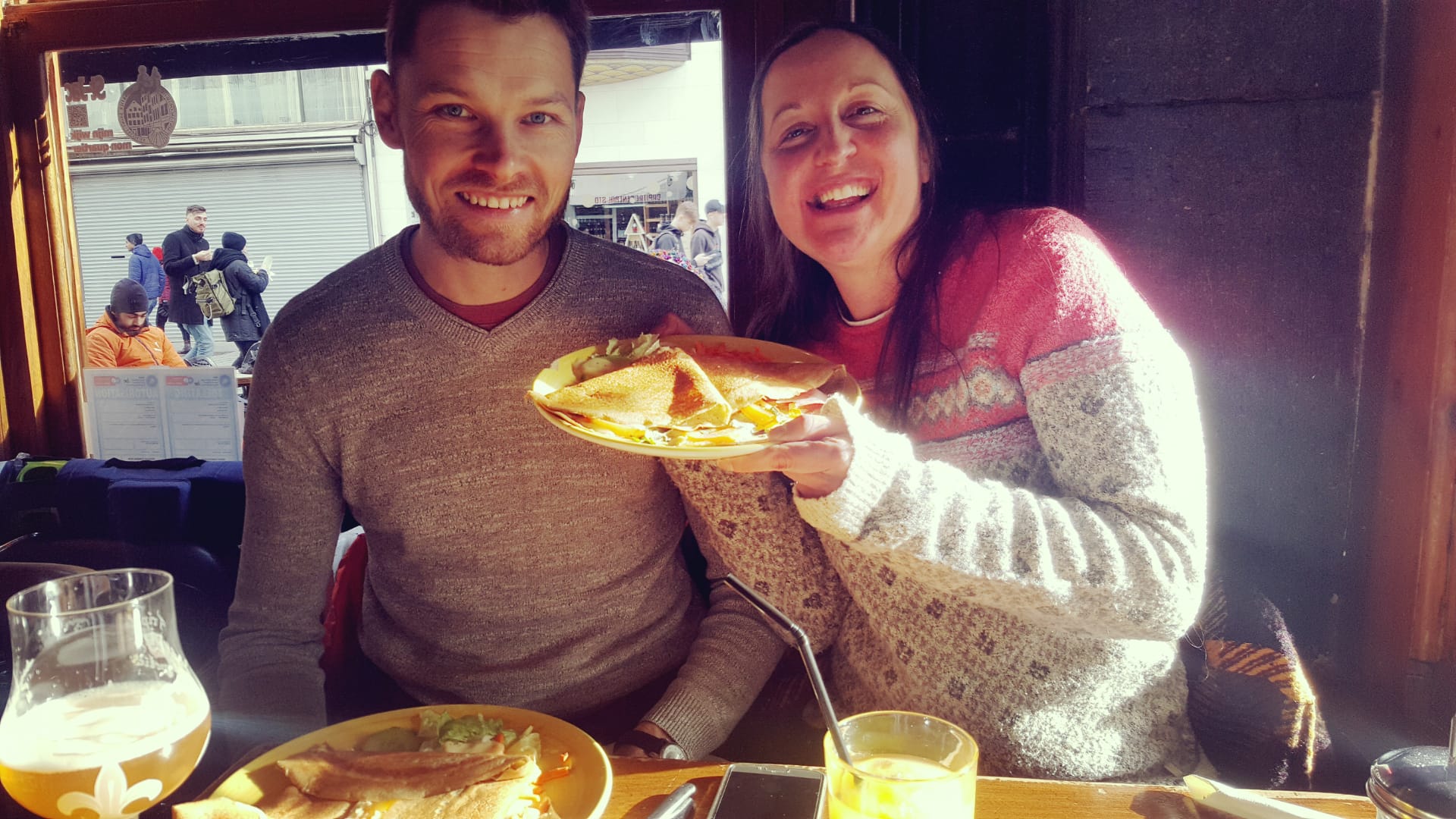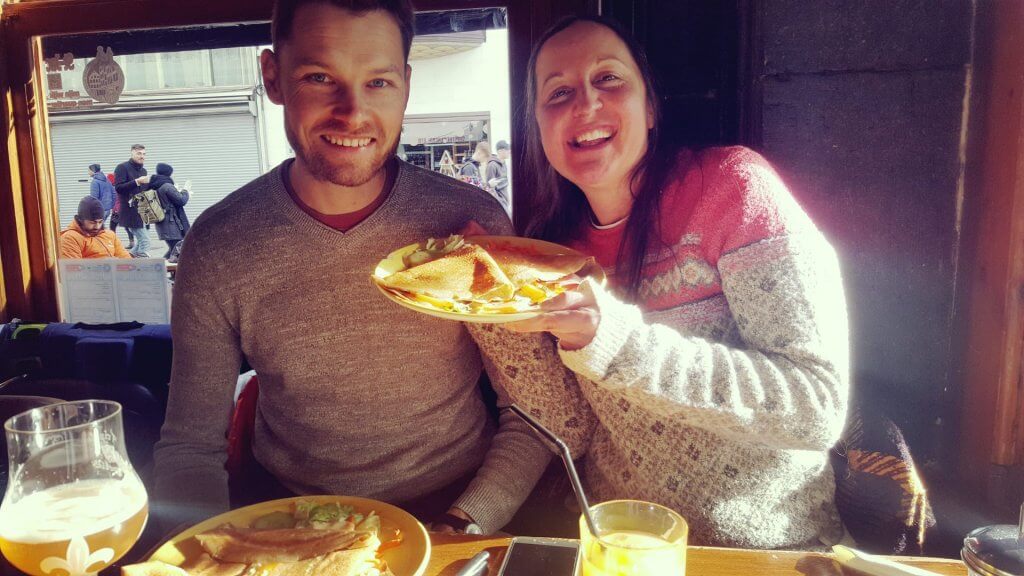 Other Features You May Be Interested In