Looking for a trendy mobility aid? PHA UK member Justine Pearmain from Ferndown in Dorset set out to find the best on the market to regain her independence.
Many online retailers and companies market mobility aids to the elderly which made my search for a trendy shopper-come-rollator somewhat difficult.
After spending a great deal of time searching the internet, I stumbled upon designed2enable.co.uk, a website which provides trendy living aids. My mission seemed complete.
Eager to try out one of their mobility aids for myself, in particular the Rollz Flex Shopper, I began searching my local mobility shops to see if they had the product in stock. I wasn't surprised to find that many of the mobility shops I visited hadn't even seen or heard of it. But they all agreed it was very trendy.
Luckily for me, I discovered a new mobility shop called CareCo was opening in Southampton, just a short drive from home. I visited the store on their open day and to my delight they had the Rollz Flex on display. Not only this but they had a wide range of rollators and walkers to choose from.
Being a savvy shopper (every penny counts), I shopped around online and found designed2enable offered the best value. I ordered the Rollz Flex the very next day and three days later it arrived fully assembled and ready to go.
It is fantastic and has allowed me to regain my independence. I can walk with it, it supports me as a rollator, it can carry my shopping, it provides a seat for when I need it, and most of all, it's fashionable! Trendy isn't cheap but any help to make my daily quality of life better is worth every penny spent.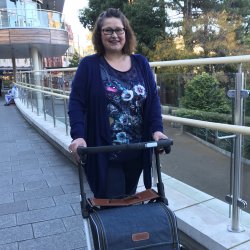 Shop around and try before you buy! Search online and ask your local mobility showroom if they can price match, or get products in.


 top tip from Justine
We know not everyone can afford a new mobility aid. The British Red Cross is the biggest national provider of short-term wheelchair loans. Find out more at www.redcross.org.uk

Justine's top must-haves

Rollz Flex Shopper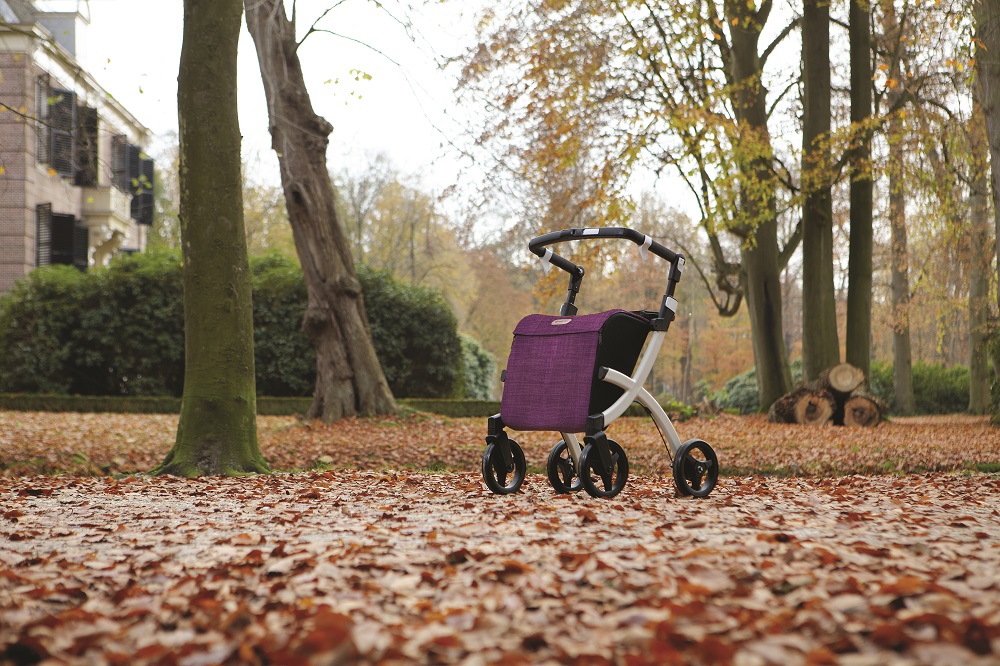 Described as your new 'best buddy for shopping and strolling around town', the Rollz Flex is a combined shopping and rollator with a modern design. It is available with a purple or grey bag. Expect to pay around £300 plus VAT. Available at designed2enable.co.uk
CareCo AirLite X Travel Mobility Scooter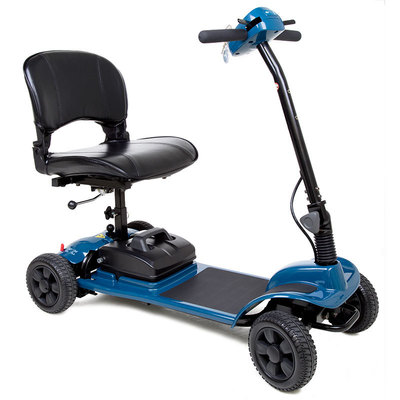 There are plenty of transportable and compact mobility scooters on the market, but you might struggle to find many with the lightweight and easy to manage design of the CareCo Airlite X. It comes in a cool blue colour and is perfect for shopping trips. Expect to pay around £390 plus VAT. Available at www.careco.co.uk
Let's Fly Rollator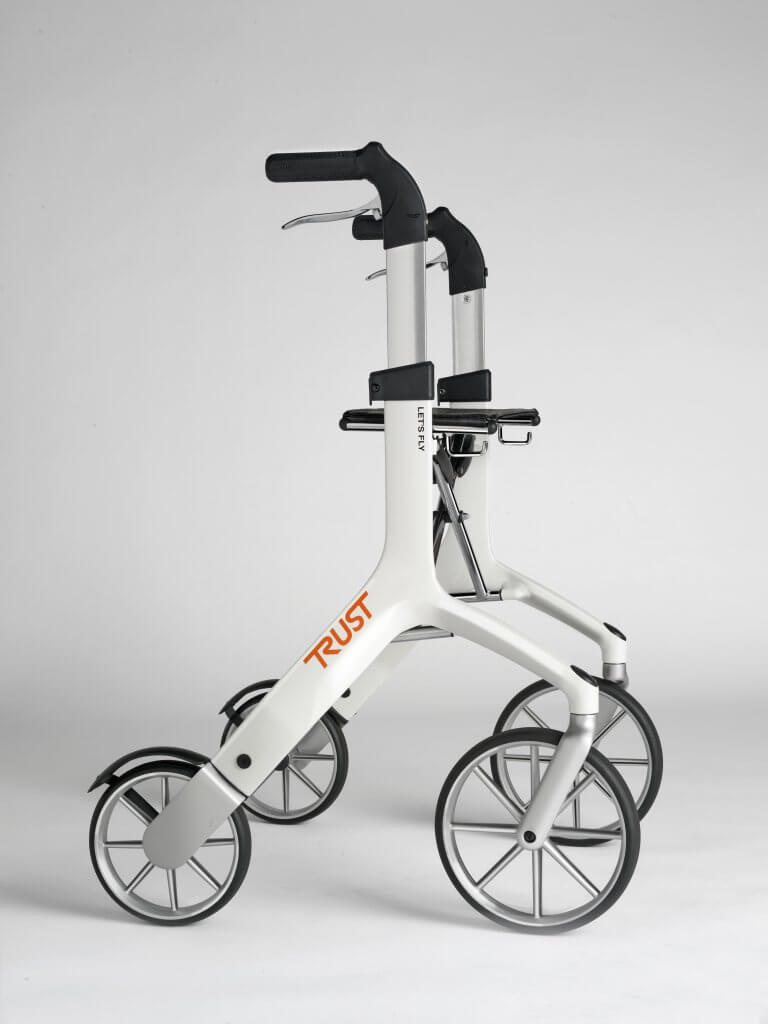 Awarded the most beautifully designed product at one of the largest German mobility exhibitions, Let's Fly leads the way in terms of design and functionality. The frame is moulded entirely from aluminium in a contemporary design which gives it a unique shape and added strength. The stylish brown artificial leather seat is comfortable, while also being water resistant and durable. It comes in a range of colours including red, champagne, white and graphite grey. Expect to pay around £380 plus VAT. Purchase through designed2enable.co.uk
Sausage Dog permit cover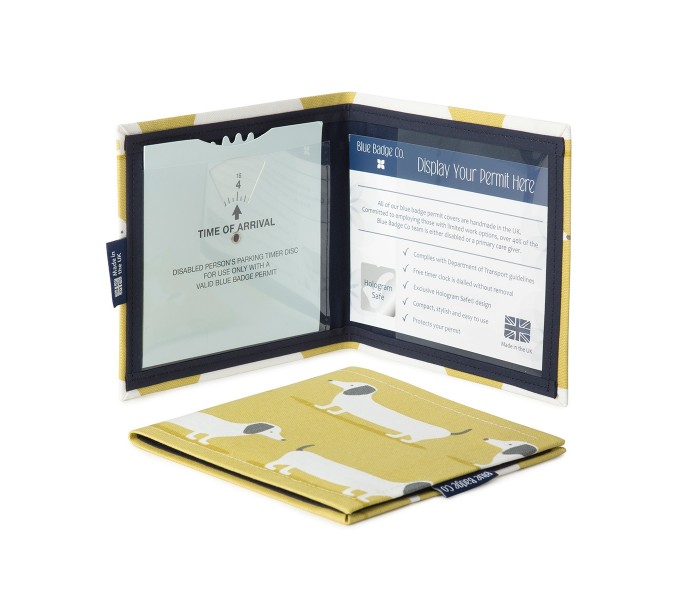 Display your disabled Blue Badge permit with confidence and style.
Each wallet includes a free timer clock which is made with superior plastic cogs and can be dialed without removal.
The exclusive Hologram Safe design ensures that holograms on permits are never covered, protecting them from damage and complying with Department for Transport guidelines.
The chic dachshund design in pastel tones is sure to brighten your day. £18 from bluebadgecompany.co.uk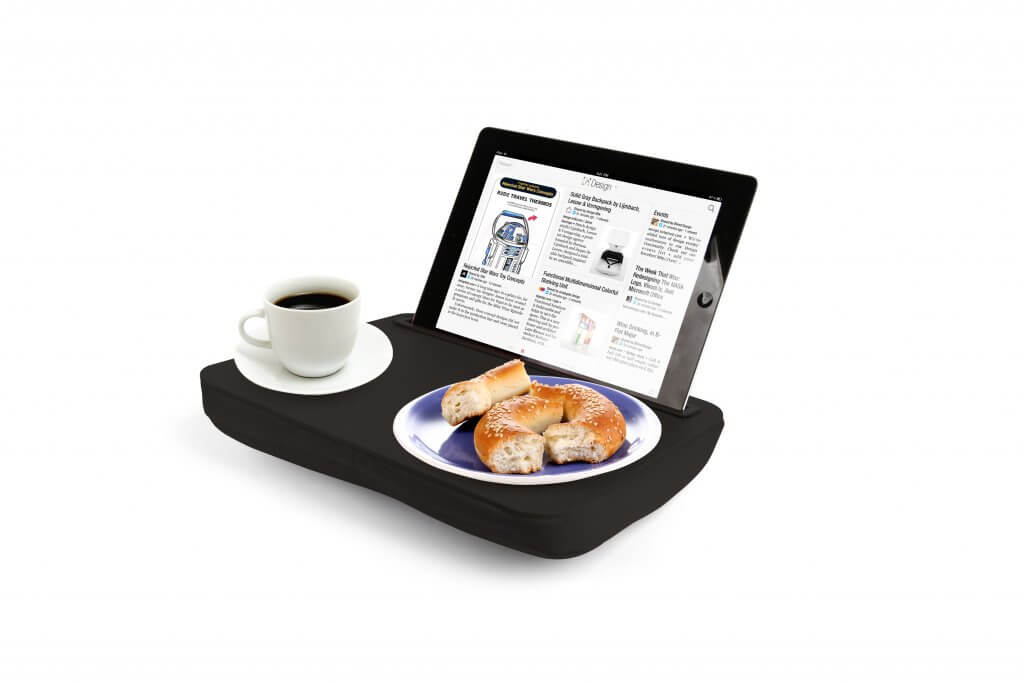 Comfy tablet tray
Use your tablet in bed, on the sofa, while you eat and more with this comfy tablet cushion tray. There is a notch to hold the tablet upright and non-slip surface for a drink or snack. The micro-bead cushion conforms to the contours of your lap making it super comfortable. £12.99 from www.springchicken.co.uk / 01865 339 366
Black Watch tartan walking stick bag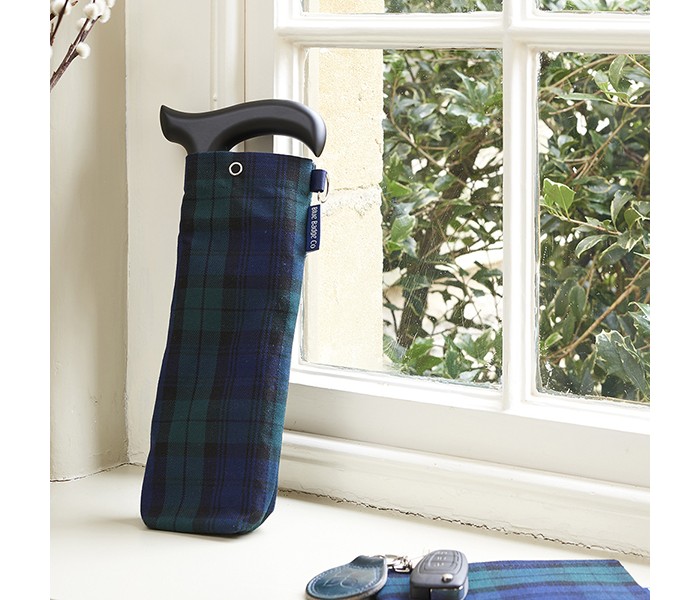 This stylish and compact storage bag for a folded walking stick is handy for use out and about or while not in use at home.
It features a press-stud fastener to stop the stick from slipping out and a handy D-ring to hang from a coat hook or easily clip onto a handbag or wheelchair.
Its traditional design has timeless appeal. Available in a variety of fabrics. Stick not included. £15 from bluebadgecompany.co.uk
Other Features You May Be Interested In