Singing with sidekick Steve
YouTube sensation Chloe Temtchine doesn't let her PH stop her performing – she just takes her oxygen tank 'Steve Martin' along for the ride.
With her affectionately-named oxygen canister by her side, New-York based Chloe has performed in front of thousands of people in America, including at the International PH Conference in Texas earlier this year.
PHA UK Trustee Kay Yeowart, who attended the conference, chose her performance as her standout moment from the event, saying:
Chloe struggled with her symptoms for five years before being diagnosed with PH. Speaking to the website xojane.com in 2014, a year after being told she had idiopathic pulmonary hypertension, she described how she found herself struggling to catch her breath on stage. Months later, she was about to hit a high note in one of her songs when she had a severe coughing fit.
After spending time in a critical care unit, where she was eventually given a diagnosis, Chloe was told she needed to rely on an oxygen tank for the rest of her life, and said: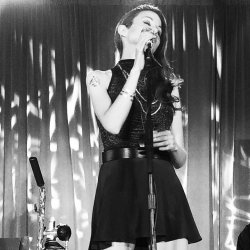 With one paralysed vocal cord, ulcers all over my throat, and my new sidekick made of tin, I wondered how in the world I would be able to sing again.


Chloe Temtchine
But I decided that symptoms were only symptoms, and that I had a choice to either let them rule me or to live my life as well as I could, despite them. I looked at my tank and he looked at me, almost as if to say, 'I am your friend. I'm only here to help you. We can go everywhere together. It will be a lot easier with me around. Don't you worry; I will supply you with the air that you need.'"
Chloe Temtchine

Chloe and her oxygen tank

Chloe playing the piano
Steve Martin is often dressed for the part when on stage with Chloe, with a bowtie, ribbon and sometimes even a hat.
Speaking to Niji Magazine she said: "I hear from many people with PH that they are both embarrassed and ashamed to go out with their oxygen tanks. At first, I felt the same way. But once I truly understood how much my body was struggling and the value of oxygen, I made my tank my best buddy."
Chloe campaigns to spread awareness of PH in America, and half of the proceeds from her latest single, 'Breathe', are being donated to the Pulmonary Hypertension Association USA.
To watch her new music video for 'Breathe', visit www.breathlessnothopeless.com
To find out more about Chloe, visit www.chloetemtchine.com . You can follow her on Twitter @chloetemtchine
Other Features You May Be Interested In