"Poetry helps to release my tensions and frustrations"
Living alone during lockdown, Margaret Porter found that writing poetry helped her manage her thoughts and feelings.

The 69-year-old, who lives in Lancashire, has Chronic Thromboembolic Pulmonary Hypertension (CTEPH) and takes daily oxygen. A widow, she works part-time at the Haworth Art Gallery in Accrington as a Wedding, Events and Gallery Assistant – and it is this job which inspired her to put pen to paper.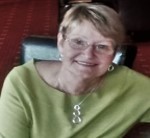 Margaret said: "When the pandemic arrived the gallery had to close so I began shielding and working from home doing research into our oil painting collection. We began to meet on Zoom every week and it was decided to have a weekly challenge. Some of my colleagues are artists but not all, so it was interesting to see everyone's interpretations.
This is how I began to write the poetry. The challenge for one I call 'Warts and All' was to produce something relating to how the lockdown was affecting us all during the lockdown. I wrote it when I was feeling at a very low ebb and reading it can sometimes still bring me to tears."
Putting pen to paper, Margaret said, has helped her to manage her emotions during these difficult times.
She added: "I did enjoy the process of writing poetry overall and I think that it helped to release my tensions and frustrations of not being able to see anyone face to face. It came as quite a surprise to find that I could put my thoughts and feelings into verse as I had never done this before.
My advice to anyone wishing to write their own poetry is to think of how the subject makes you feel. Write down all the things that you think of and then arrange them to make sense. Don't be afraid to give it a go you could be surprised."
You can read two of Margaret's poems, inspired by the pandemic, below:
Warts and all
Home's where the heart is or so it is said.
Somewhere to relax and go lay down my head.
But these chains are restricting I want to break free,
I'm a sociable person I enjoy company!
Each day is a new day but I must remain,
on lockdown, I'm shielding, so I must refrain,
from going out shopping or meeting my friends.
I can't see my family I hope this will end!
Twelve weeks and counting since Covid – 19
I'm trying to look forward and not where I've been, but
Confusion, frustration and sadness I feel
And at times I'm complacent, things are a big deal!
I try to be cheerful, I laugh and I've cried.
When I get low I think of all those who died.
I hope I'll get through this I wanted to share
that, I'm really so thankful to all those who care.
My Sons do my shopping, or I buy things online.
Friends, family and colleagues check to see if I'm fine.
Instead of the office I now work from home,
Which is new and fulfilling but I still feel alone.
I've revamped the garden and read lots of books.
I've completed work challenges and I'm learning to cook!
Researching oil paintings is a new thing for me.
It has given me a purpose to explore their stories
I'm bored of the telly, I know that I moan.
My dog's my companion and so is my phone.
I tire quite easy when I'm not at my best, so
my oxygen's humming, think I'll take a rest.
Hope
Hope is the sunrise at the start of the day.
Hope is the butterfly heading my way.
Hope is the birdsong so happy and strong.
Hope is the feeling you get from their song
Hope is the rainbow its bright colours shine.
We all need to hope, soon things will be fine.
**If you enjoy writing poetry, please email your work to media@phauk.org and we will do our best to share it**
Other Features You May Be Interested In