Living with pulmonary hypertension doesn't stop Viv Lloyd raising smiles in hospitals with her partner Denise and their therapy dog Bobbi. Mary Ferguson found out more about their volunteering and what it means to both them and the people they visit.
Volunteering has been a huge part of Viv and Denise's lives, since well before Viv was diagnosed with pulmonary hypertension in January 2019.
The Blackpool-based pair have been giving their time to others since taking early retirement over 15 years ago and spent a long time helping out as advisors at their local Citizens Advice Bureau.
But when King Charles Spaniel puppy Bobbi came lolloping into their lives, their volunteering path took a whole new direction.
"We needed to dedicate more time to having a new dog, and because Bobbi had such a wonderful nature we thought we'd love to work with him in some way", says Denise. "I went on good old Google to research opportunities, found Pets As Therapy, and it all went from there."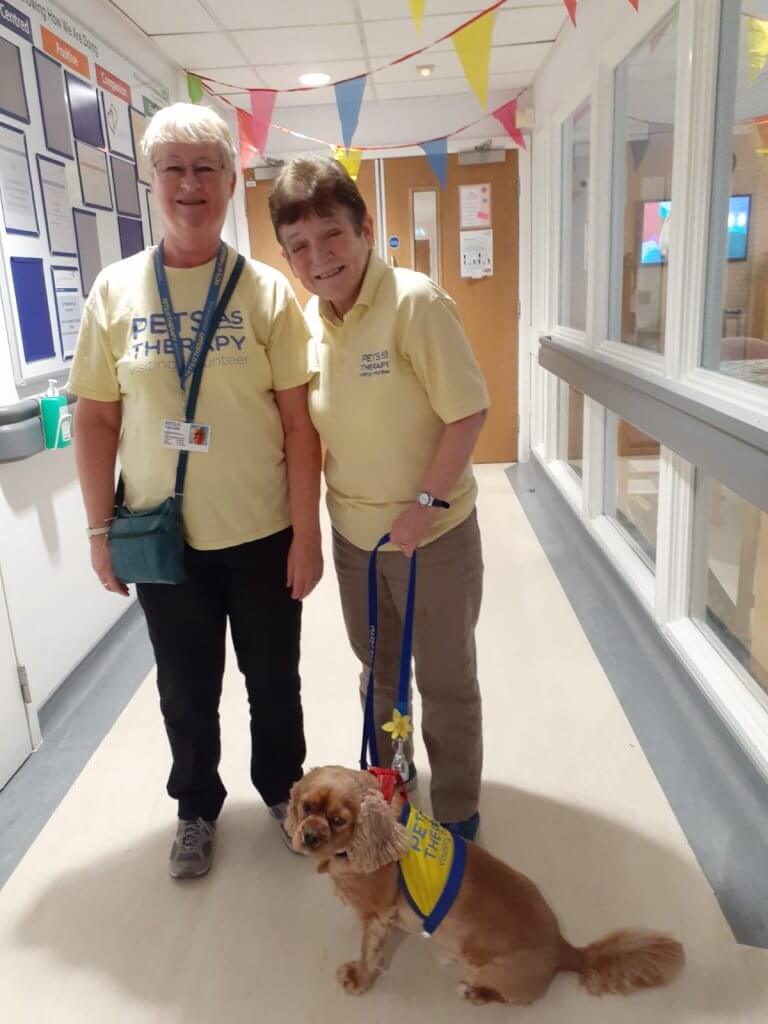 Fast forward three years and the trio now divide their time between two hospitals in Blackpool, working as a team to help people feel better during difficult periods.
Facilitated by the charity Pets As Therapy, they take Bobbi onto wards to meet patients for cuddles, comfort and companionship.
"Lots of people in hospital miss their own pets", explains Denise. "It can be a long and lonely life, especially if you're in for a while, but Bobbi's visits give people something to talk to visiting relatives about – it provides a bit of normality, and friendship too."
The volunteering has taken on a new meaning since Viv was diagnosed with PH at the Royal Hallamshire in Sheffield in early 2019. With three hospital stays before the diagnosis was confirmed, she experienced first-hand what it feels like to miss a pet – and the trio now visit the very ward she stayed on in Blackpool.
Bobbi's visits provide a bit of normality, and friendship too
Viv says: "I see it through different eyes now, from having been there myself. I know from experience what a wonderful job all of the hospital staff do – not just at the hospitals we visit but at my specialist centre too, where I continue to receive an overwhelming level of care and support."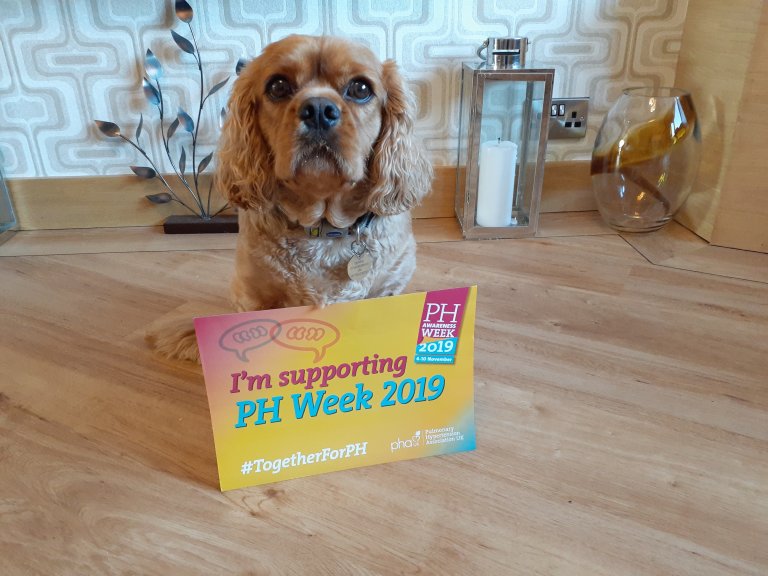 Coincidence has created poignant moments and memories for the pair through their volunteering. At one stage whilst visiting the children's ward at Blackpool Victoria Hospital, Bobbi became a regular friend to a four-year-old girl named Lana.
"We saw her for the last time the day before her fifth birthday, and she was so poorly by this point that her birthday celebrations had been brought forward", remembers Denise. "Whilst I stayed with her and Bobbi, watching her cuddle him while her mum took photos, Viv got chatting and it transpired that, unbelievably, Lana had pulmonary hypertension too."
"She was so full of fun and always smiling", adds Viv. "I was really upset for her and unfortunately, she passed away just a few days after that visit. To come across a little girl with PH, who was so poorly, really shocked us."
As well as comforting patients, Bobbi has an important role when it comes to helping hospital workers too. He makes one-off visits to boost staff morale and joins his humans when they speak about their experiences at nursing conferences.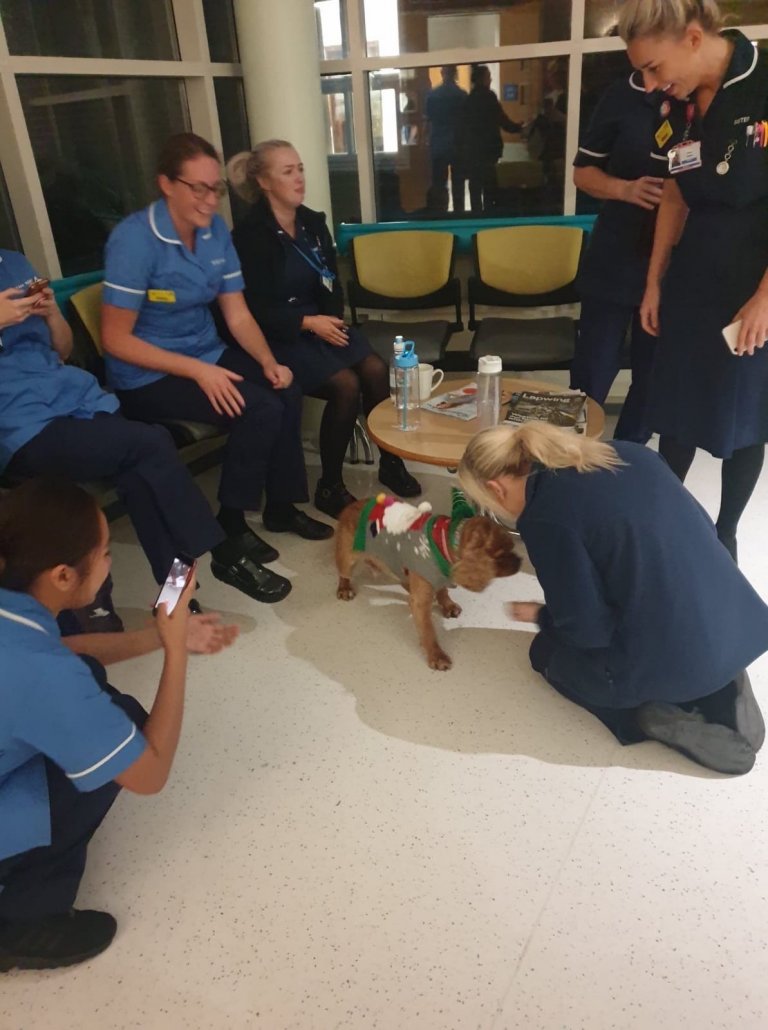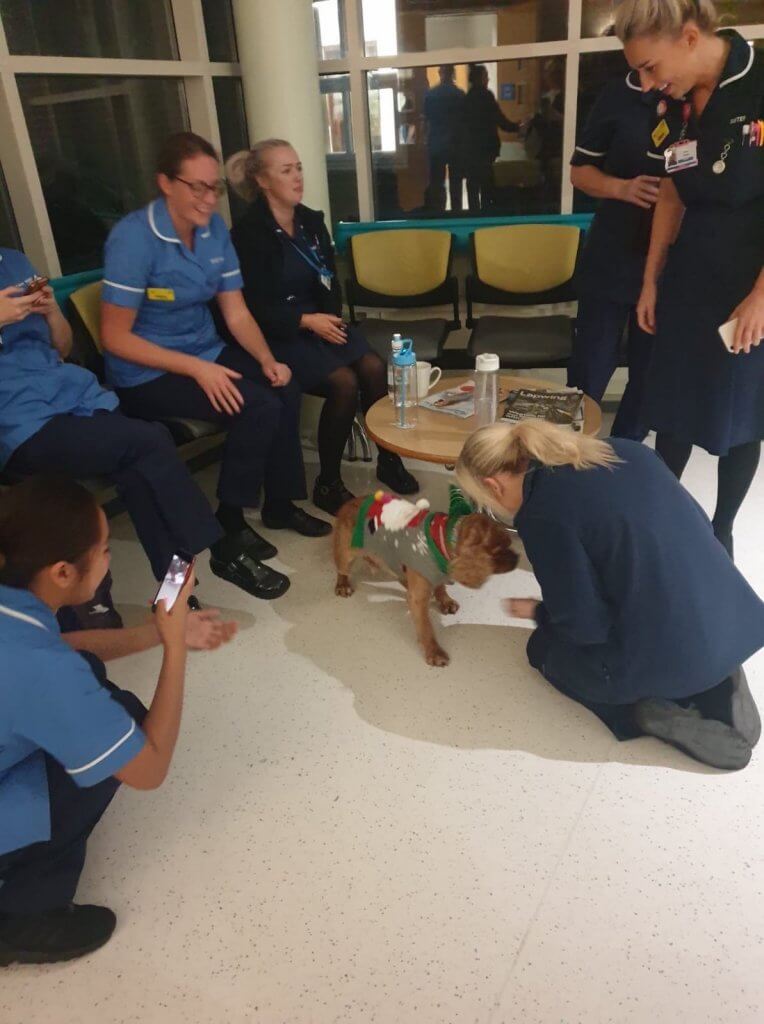 For Viv, volunteering with Bobbi provides purpose and direction – even on the bad days with PH. She says: "The side effects from the drugs I am on now give me muscle pains so I have to take pain killers before I go out for the visits, but they do give me a boost. They get me out there on the days when I could say I really don't feel up to it. I come away from the visits thinking 'this is it, this is what life's about'.
"It helps me, because sometimes I just focus on me and my problem, and I do get a bit black at times. But this helps me to feel more positive about things."
Denise has noticed the positive effect that volunteering has on her partner too. "There are obviously days where Viv doesn't feel so great and struggles to get the will to go out and do stuff. But whenever we go out and do a visit, she says 'yep, that was a good day'."
A lot people with Pets As Therapy dogs make the visits on their own, but volunteering together gives Viv and Denise shared experiences – as well as helping the visits go smoothly.
Denise explains: "It works well for us as Viv will go in first as the 'introducer' and check the patient wants to meet Bobbi, and I will be the one that picks him up and handles him, because Viv struggles with that due to her health."
Whenever we go out and do a visit, Viv says 'Yep, that was a good day'
The trio go out twice a week, alternating between the cardiac and children's wards at Blackpool Victoria Hospital and a weekly visit to Clifton Hospital in St Anne's-on-the-Sea too. They also do 'special gigs' as they call them – including Christmas fairs, conferences, and visits to emergency department staff.
"The volunteering for us is an absolute joy", says Denise. "As corny as it sounds, it's wonderful to see the difference it can make to patients. There have been occasions when someone has been lying in bed, not responding to anything, and when we have taken Bobbi up, they have put a hand on his head. Eyes have opened, a smile has appeared, and you think 'my goodness, I didn't even know you had that in you'. Sometimes we will see that same person progressing week after week. We get so much back from it."
Both Viv and Denise agree that the volunteering puts things into perspective. Denise adds: "PH is a lousy thing to live with but you realise there are a lot of other things going on out there in the world as well."
---
"The photos of Lana with Bobbi are my last memories of her being well and happy"
Lana Driver died from pulmonary hypertension just a few days after her final visit from Bobbi. Here, her mother Susie reflects on the difference he made to her daughter.
"Lana spent a lot of time in hospital and Bobbi's visits gave her so much joy.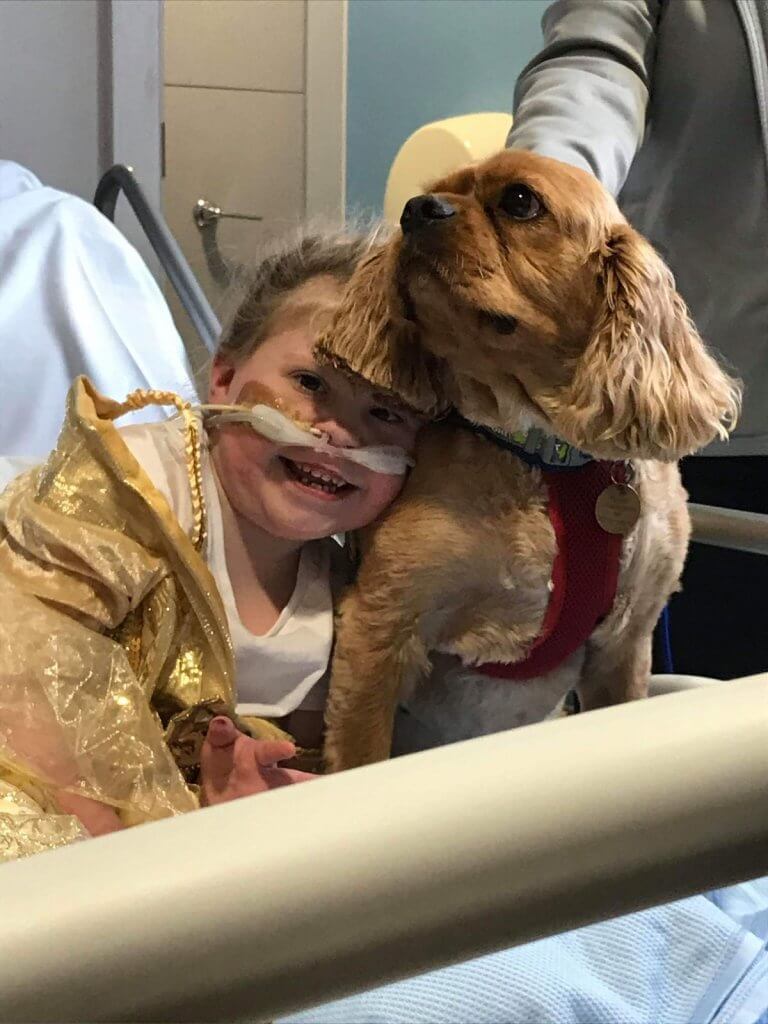 She was very poorly, and we knew she was going to pass away, but he cheered her up dramatically. Her face just beamed when she was with him. She could not stop talking about that little dog.
Bobbi was a calming influence and his visits gave Lana something to look forward to.
Because she was so ill, her fifth birthday party was brought forward, and it was a coincidence that Bobbi was visiting the ward at the same time. She spent her last party laughing and for the hour that he was there, she was just a normal child cuddling a dog.
Watching Lana with Bobbi brought tears to my eyes; it was amazing to see her so happy. She got more out of it than you could ever imagine. She thought Bobbi was her best friend and she loved looking at the pictures I took of her with him.
She would be so excited to see them in this magazine. I can imagine her saying 'Look mummy, I'm famous'. The photos of her with Bobbi are my last memories of her being well and happy, as she died just a few days later.
She got more out of it than you could ever imagine – she thought Bobbi was her best friend
Lana would want her memory to live on and I want to raise more awareness of pulmonary hypertension in her name. She was so loving and giving and touched so many hearts; there were over a thousand people at her funeral.
What Viv and Denise do with Bobbi is fantastic. Even though Viv has PH herself, they take time out of their lives just to go and visit sick children and adults and I think that's just amazing. I can't thank them and Bobbi enough for what they did for Lana."
Find out more about Pets As Therapy at www.petsastherapy.org. Cats can be registered as therapy animals too. All animals must be over nine months old and have lived with their owner for six months. They must also pass a temperament assessment to ensure they are suitable for visits.
Other Features You May Be Interested In