Barbara Fraser lives in Melton Mowbray, Leicestershire. In this blog, she reflects on 15 years since her diagnosis of Chronic Thromboembolic Pulmonary Hypertension (CTEPH).

In February 2006 I was diagnosed with PH at my local hospital and three months later I was admitted to Royal Papworth and joined a blind drug trial of Sildenafil. Fortunately, I received the drug rather than a placebo as I subsequently found my life expectancy at the time, without medication, would only have been two to three years! The Papworth consultants confirmed I had CTEPH and so began a long journey which is still ongoing after 15 years.
The journey to diagnosis
When and how I developed PH I still do not know to this day. For some years previously I was getting more and more breathless.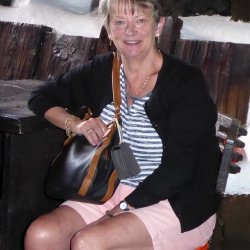 I spent two years undergoing various tests locally for asthma, allergies, stress, depression and windpipe obstruction – none of which indicated what the problem was
In January 2006 I went away for our annual ski holiday with my husband Derek, my son and his fiancée. While on the slopes I felt really unwell and on returning home became so ill I was admitted to Glenfield Hospital in Leicester.
Oxygen therapy helped me breathe more easily but it was three weeks before the doctors finally found what was wrong. The doctor said he would perform a right heart catheter procedure 'just as a check' and lo and behold, it revealed I had PH – an illness I had never heard of before.
I was sent home and told to take oxygen all day and that I would be contacted by Papworth hospital for ongoing treatment. I was a very active 52-year-old, a Scout leader, a local Lions charity worker, had my own hairdressing business, my younger son was getting married in the summer, and suddenly my life was crashing all around me. But somehow with the help of Derek we managed to cope, adjust to new circumstances and get on with life.
Help to live well with PH
Sildenafil stabilised my condition but had a very unfortunate side effect – severe and very long nose bleeds, sometimes for over six hours! So, in 2009 Sildenafil was replaced with Ambrisentan. I still get lots of nose bleeds but mostly now very short ones. In 2011 Tadalafil was added to my medication and these two, together with a cocktail of supporting drugs, have kept me going ever since.
As it is for many people, PH has been a life changing illness for me. Taking oxygen for 16 hours a day is ideal, but this is very restrictive, so I compromise by sleeping with oxygen overnight. I like to get ten hours so am a late starter each day. In the morning I have more energy but most afternoons I rest. I am still a Scout leader but sadly can no longer take part in many of the activities. I also continue to help as much as I can with the Lions.
Before the COVID-19 restrictions we enjoyed two or three holidays each year with winter sun in the Canaries an especial favourite. We always book self-catering as we love trying the local restaurants. I can walk slowly but to get around more quickly, Derek has for many years pushed me in a wheelchair.
Four years ago in Tenerife we found we had booked half way up a fairly steep hill. After pushing me up the hill Derek himself felt the need of my oxygen! We promptly rented a mobility scooter which proved so successful we bought a 'portable' one at home which we now take on the flights. 
Science, surgery and looking ahead
Unbeknown to me, before my PH was diagnosed I had a bicuspid aortic heart valve (two flaps instead of three) which by 2019 was wearing out. The PH and heart consultants at Papworth were very concerned about the risk of operating to replace the valve but eventually concluded the risk to replace was less than risk of the valve failing.
Therefore, in November 2019 I had my first long stay in the amazing new Royal Papworth hospital. Open heart surgery would have been too risky, so a new tricuspid valve was inserted using a transcatheter aortic valve implantation (TAVI) procedure. The operation proved to be a great success and when I came home after 11 nights, my family and friends all remarked how much less blue I looked.
The heart valve stabilised my condition but did not improve my breathlessness so balloon pulmonary angioplasty (BPA) was proposed. It was hoped enough lung blood vessels could be opened up to make a noticeable difference.
Despite all the Covid-19 restrictions the first session went ahead last November at Royal Papworth and the second in December. I was warned it could be many weeks before I see a real benefit so [at the time of writing this in February] I am hopeful of some improvement, especially when the warmer weather arrives.
But overall, I am so grateful to the amazing skill and dedication of the consultants and nursing staff at Papworth for not only keeping me alive for 15 years but allowing me a quality of life. I have watched my seven grandchildren and my first great grandson grow and I hope to be around for many years to come.
Other Features You May Be Interested In