"My e-bike has given me freedom"
Tess Jewson ordered an electric bike during lockdown and is now able to enjoy rides with her husband around the Essex countryside. Here, she explains how she found the right one.
"I was getting very bored in isolation and I got the urge to buy a bicycle. The problem was I haven't ridden only since I was a teenager, so not only would I be very wobbly, but having pulmonary hypertension meant I would struggle with the pedaling and become very out of breath. So I decided that maybe it was a crazy idea after all!
My husband Terry suggested buying an electric bike but I hesitated at first because I knew they were quite expensive, and I wasn't sure how well it would assist my pedaling.
Choosing a bike
Because of shielding, I unfortunately couldn't try any out, so we went on Halford's website and looked at the specifications of each bicycle. We knew there were two types of e-bike and we needed to make sure we chose one with a 'continuous motor.' This meant I couldn't have an 'assisted e-bike', it had to be a full electric bike (where the motor stays on and the bicycle keeps moving even when you have stopped pedaling).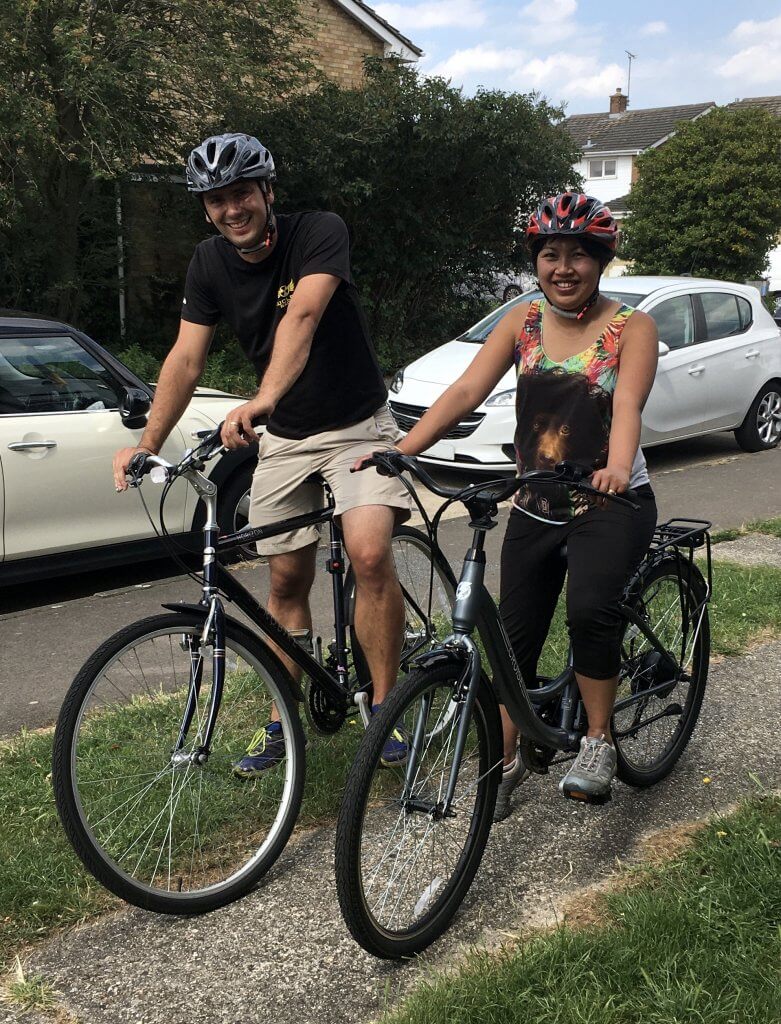 Another important specification is the pedal-assist function. I had to make sure that it stated 'high sensitivity.' This is very important as even though the motor keeps going once it kicks in, you don't want to have to pedal a lot to get to that point. With 'high sensitivity' I only have to do a couple of pedal rotations and the motor takes over.
I also wanted a low step-through frame, as being short, I wanted an easy mount and dismount. To make it UK legal, the motor has to be 250W with a top speed of 15mph.
Terry and I searched online for a week, looking at different models, picking out the important specifications we needed and adding them to our 'favourites' list. We finally got our top three and I initially ordered an Apollo Women's Hybrid E-Bike from Halfords for £800. Unfortunately, I received a phone call later that day saying it was out of stock and they didn't know when it would be back in stock. I then chose the Pro-Rider Hybrid E-Bike. It was £999 on the Pro-Rider website, but as I am an avid Amazon customer, I searched for it on their website and managed to find the exact one – and the last one – for £500! I was so pleased.
Finding freedom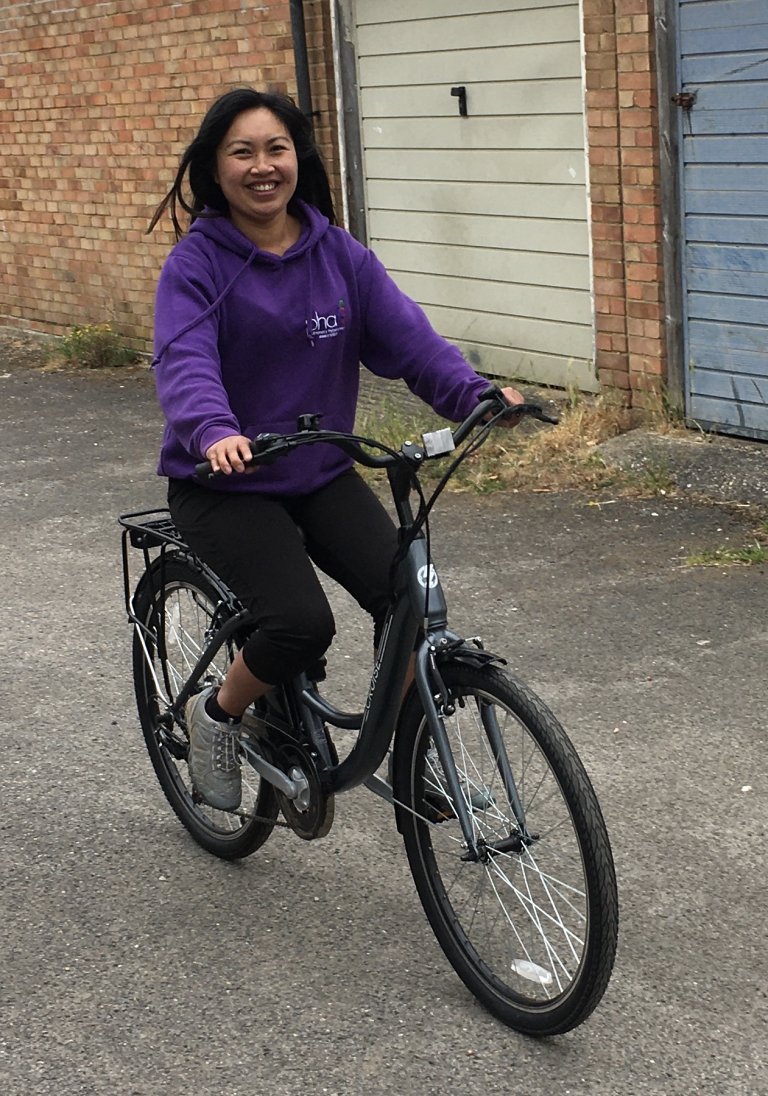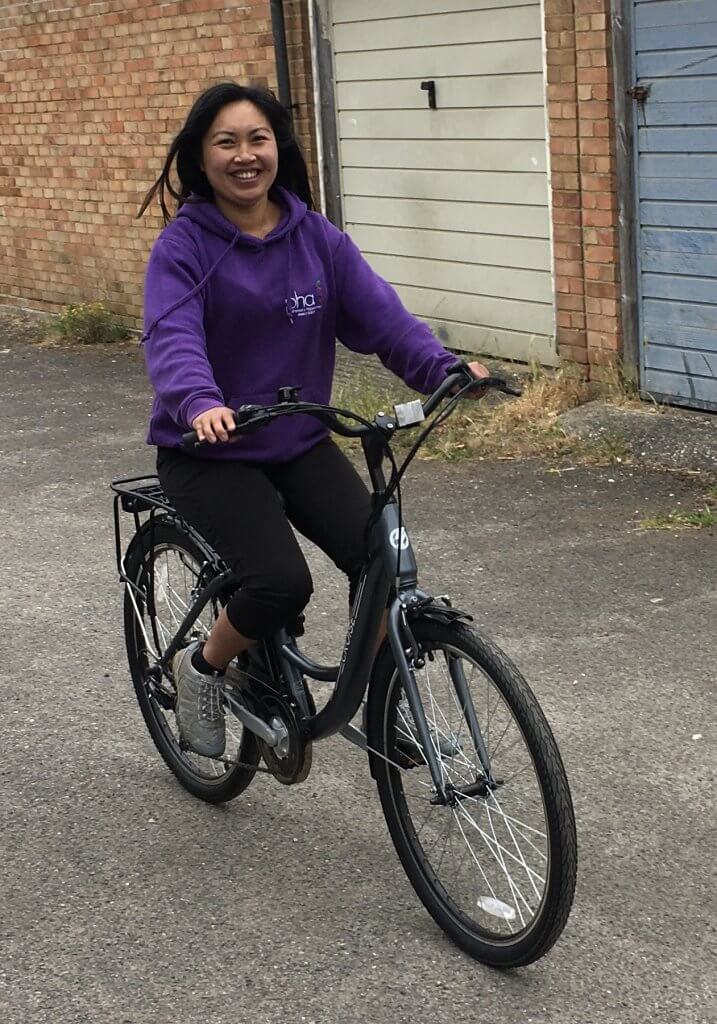 Fast forward to today, July 2020, and I am absolutely loving my electric bicycle. I can cycle for quite a distance without getting breathless and when I have to cycle up a hill, I put the pedal-assist function on high and it takes me to the top of the hill without extra pedaling. I only cycle on my good days and when I feel well. My body and legs are tired the following day, which is expected, as I'm still using up my energy, but there is no way I'd even contemplate riding a bicycle without it being electrical.
My bike has three speed levels – low, medium and high. On low, I go at a steady pace and on high, I go at a fast pace, which is great for inclines. As my motor is continuous, my bicycle doesn't slow down, it keeps moving and I can continue pedaling without any resistance or just let the motor do the work. My battery also lasts for 22 miles – not that we've cycled that far – and it's fully charged in only four hours.
Our dog Izzy has joined us too on some rides, as my bicycle comes with a rear pannier rack, so I bought her a dog basket. After a run around in the park, she's more than happy to get a lift home!
I never thought I would be able to get on a bicycle again and go for rides with Terry. We have cycled into town and back again and around the Essex countryside. It's a wonderful feeling cycling without worry and it's been very positive for my mental health, especially during this difficult time.
I feel my electric bicycle has given me freedom. It's the best present I have ever bought myself!"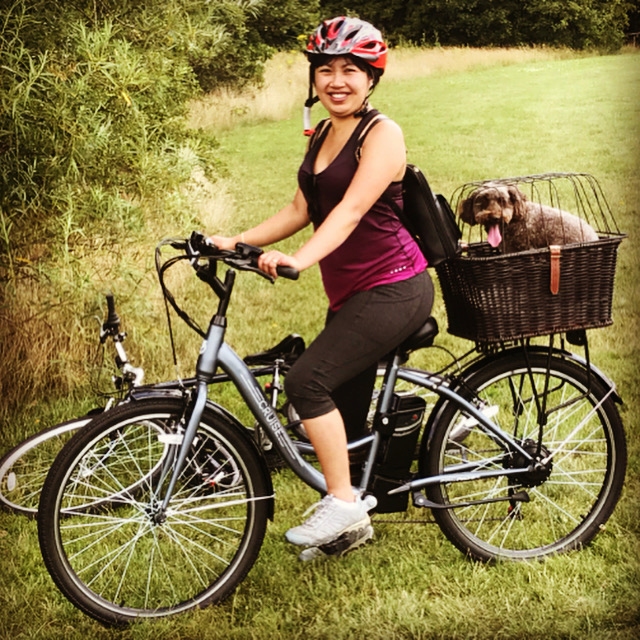 Other Features You May Be Interested In