Like so many others, the Hampshire's had to push for their daughter Abbie to have the tests that would eventually lead to a pulmonary hypertension diagnosis. As part of their support for PH Day UK 2023, mum Andrea wrote this blog to explain why her seven-year-old daughter's health conditions will never define her.
We are believers of the benefits of having a diagnosis. It lifts a weight of worry for everyone who has spent so much time and effort looking for help and can provide focus for a pathway of support. It is both life-changing and reassuring at the same time.
You know that you have a challenge to face, life might change, but it can provide hope and the determination to keep going. Whether that's to find the best treatment, a cure, or the goal of living your best life possible.
This is what having a diagnosis means to us, but it doesn't define everything we do. She will always be Abbie first. A child first, with the right to aim high in all areas of her life that make her happy. A diagnosis will always come second to that.
Her many conditions are most certainly not what our daughter means to our family. She is surrounded by people who are of the same mindset: that she has many strengths, and together we will celebrate her achievements in life for as long as we can.
Abbie was born with congenital scoliosis, and it was when she was 18 months oldthat we raised a concern as she was struggling to lift herself from the floor, she couldn't walk, breathing seemed such an effort, and she appeared so poorly.
It was explained away that it was probably due to wearing the plaster spinal casts full time, but they would do a routine echocardiogram to check. Pressures in her lungs showed some elevation but there didn't seem to be any major concern.
So, we carried on with life and continued to watch her lay horizontal most of the day, pale, and quite frankly lifeless, while other children her age were enjoying achieving those wonderful early years milestones.
Instinctively, we knew this was something more serious. It broke our hearts to see her unable to enjoy her early years and everything became so overwhelming. By this time, we decided to raise our voices and keep asking for a second echocardiogram.
We stopped worrying about upsetting the system. We decided as long as we were being respectful, just keep asking!
By the time she had her second echocardiogram, they found the pressures in her lungs were now dangerously high and her heart was enlarged. The professional in the room was so concerned, she escalated the results that day and early the next week Abbie had a heart catheterisation procedure. We received the diagnosis of pulmonary hypertension and she was transferred to the care of Great Ormond Street hospital.
Thankfully, her journey since diagnosis of PH has been stable since she started her medication. Although she still gets breathless and very easily fatigued, she can do so much more than laying quietly on the floor watching everyone else enjoy all that life has to offer.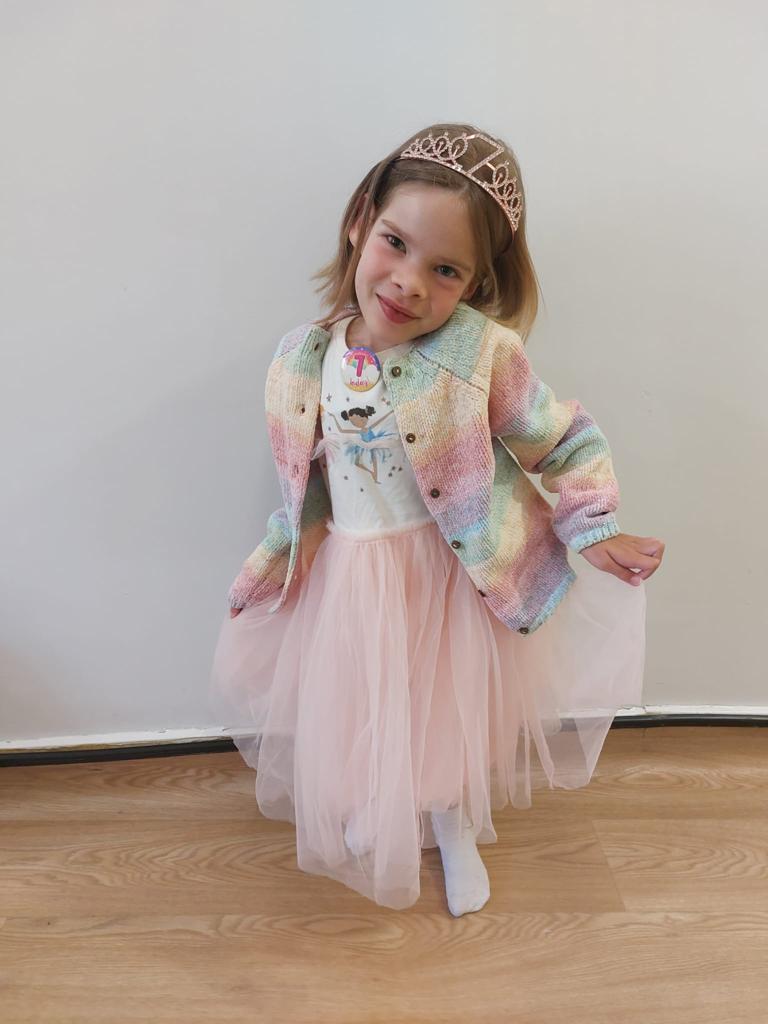 Abbie's PH is a result of her restricted lung development, which is in turn, a result of her new diagnosis of progressive kyphoscoliosis. We have been told the risks outweigh the benefits of any spinal operation now, so PH will be part of her life for as long as we can foresee. But with the diagnosis, treatment and support in place, Abbie can do so much more and feel like a little girl with dreams, interests and strengths to pursue.
Abbie is now seven years old and is most certainly living life to the fullest in her own unique way. She is always smiling or being funny, and she even has a stubborn streak that pops out every now and then. She is incredibly determined and will stand up for what she believes in, even if it causes a few turn-taking or sharing issues. She is wary of strangers, but she builds trust and compassion in the most amazing way.
In her powered wheelchair she can be more independent on family days out, keep up with her two big brothers, or arrive with a smile to the ward when we go to the hospital for appointments.
She has the best distraction techniques I have ever heard and knows just how to delay professionals from their tasks. "What does that do?" she will say. "I am not ready yet" and, "just one more minute" are her very best lines.
She loves music and dancing, and with her walking frame so she can now join in with her Saturday morning ballet class. Even if only for a few minutes, it doesn't matter, as she feels like a real ballerina.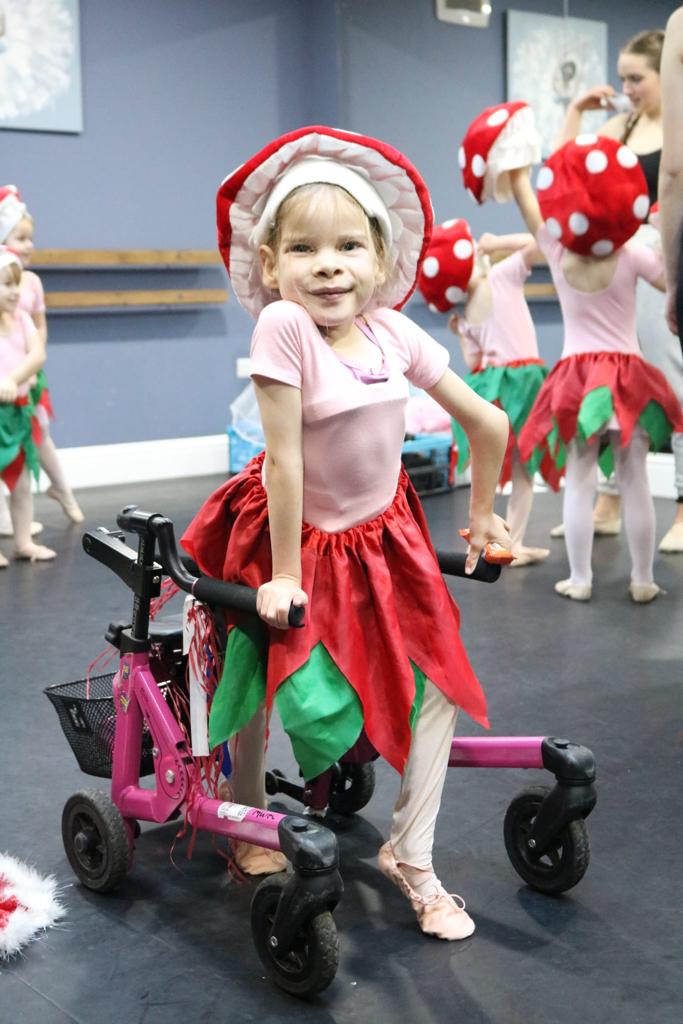 Her stairlift at home means she can go upstairs to play in her room or shut her door when she needs a bit of space. She has oxygen therapy set up at home, school and on the go so when she needs a break, she can have one. This helps her get through the day better, conserving her energy and allowing her to attend school full time. With an adapted downstairs toilet, she can get ready at her own speed and arrive at school with all her bags and equipment, ready to learn.
After watching her struggle to participate in her early years, she is now flourishing at school. She enjoys reading and is writing much more independently without getting tired. Only this week she wrote a letter to the Prime Minister voicing her views on sea pollution.
She has made so many friends at school who love her for who she is and have been so accepting of all her equipment and tiredness. She loves to stand up in 'celebration assembly' and achieve star awards for having courage to keep going with her learning.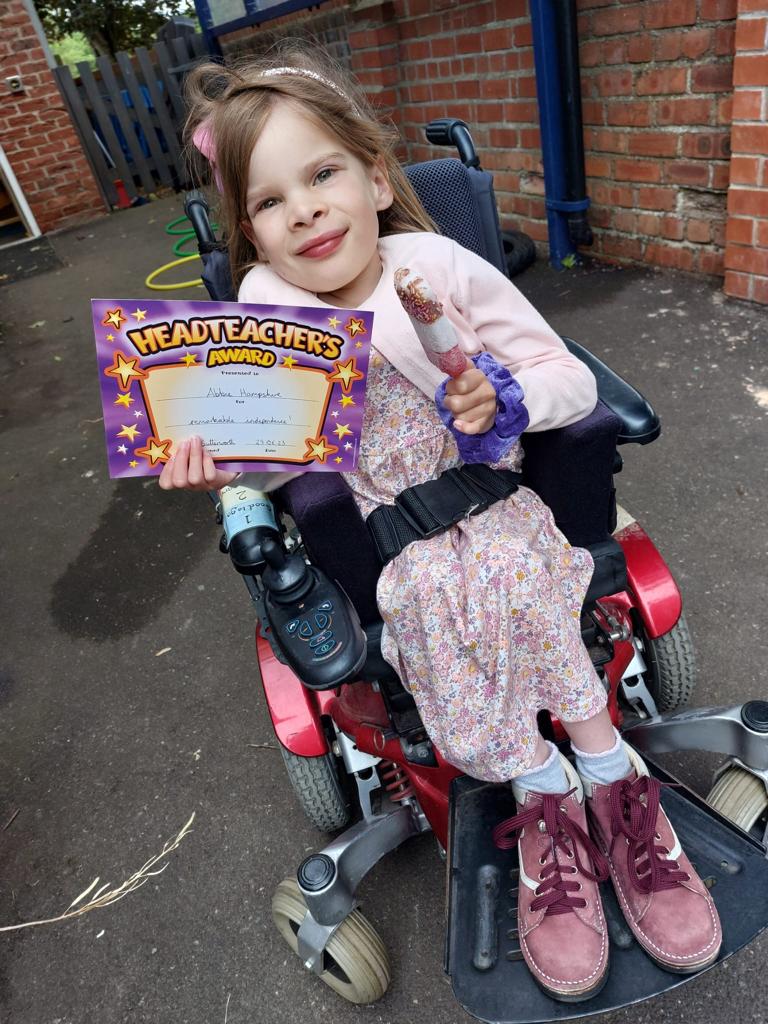 She is joining in with her first outdoor adventure trip with school this year and wants to join the school choir one day. She has the best nurturing relationship with all her teachers, and they really do know her well.
They make every effort possible to ensure she is included and able to try everything on offer, with adjustments specific to her needs. She has, however, earned a couple of speeding tickets when in her powered chair 'Ruby' in the playground because she doesn't like to go slow!
This is all worlds away from that heartbreaking time before her diagnosis when we thought life would just pass her by.
A previous life where we thought all our time would be focused on trying to figure out what was wrong so we could get her the help she needed. But now we can focus on ensuring she lives life to the fullest.
Today, she is happy and thriving and we are so thankful that she is supported by so many wonderful people and professionals who see Abbie, the child, first.
So, with hope and determination always in our minds for Abbie, she has the potential to achieve so much now, and she is certainly more than her diagnosis.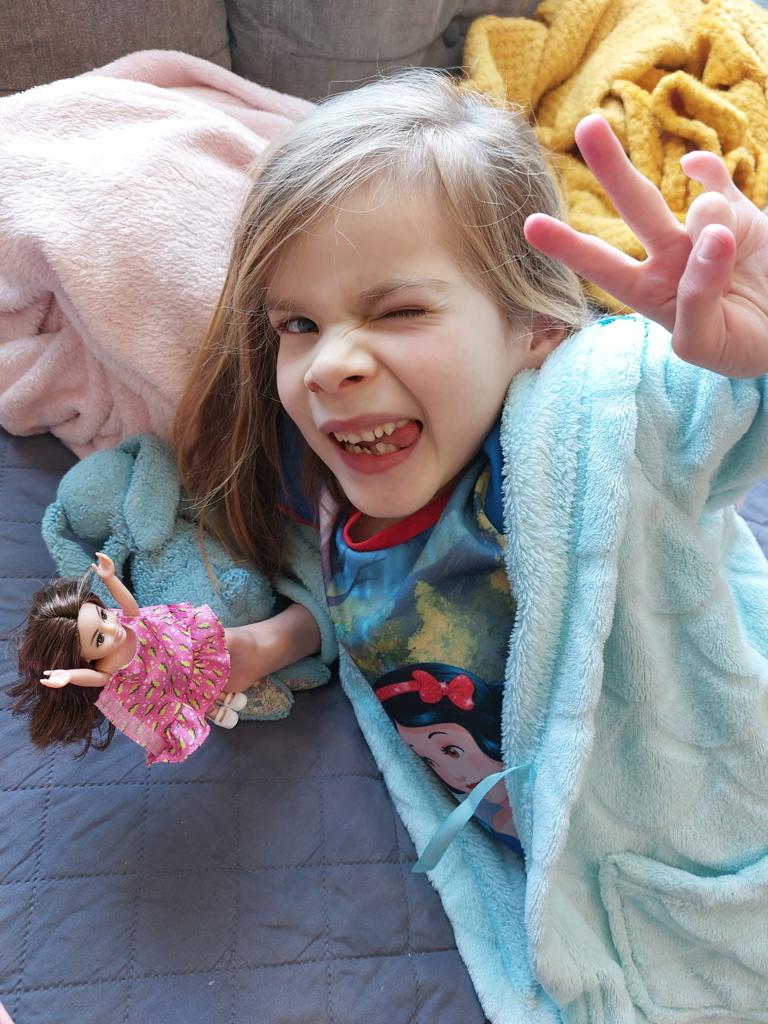 Other Features You May Be Interested In