Meet the physio helping people with PH enjoy a better quality of life
Specialist physiotherapist Katie Dowling is dedicated to getting people with PH active. We caught up with her in September 2020 to find out more about her work.
A physiotherapist within a specialist PH service is still a fairly new concept. How did your role come about?
We know that exercise in patients with pulmonary hypertension is important and the PH team at the Brompton have been working hard for the last few years to get a physiotherapist in post to support their patients.
Following on from the successful work being carried out by Carol Keen, the specialist physio within the Royal Hallamshire's PH service, the PHA UK kindly provided funding for my post two days a week for two years. I started the role in January and during the rest of the week I work on the intensive care and cardiothoracic wards at the Brompton.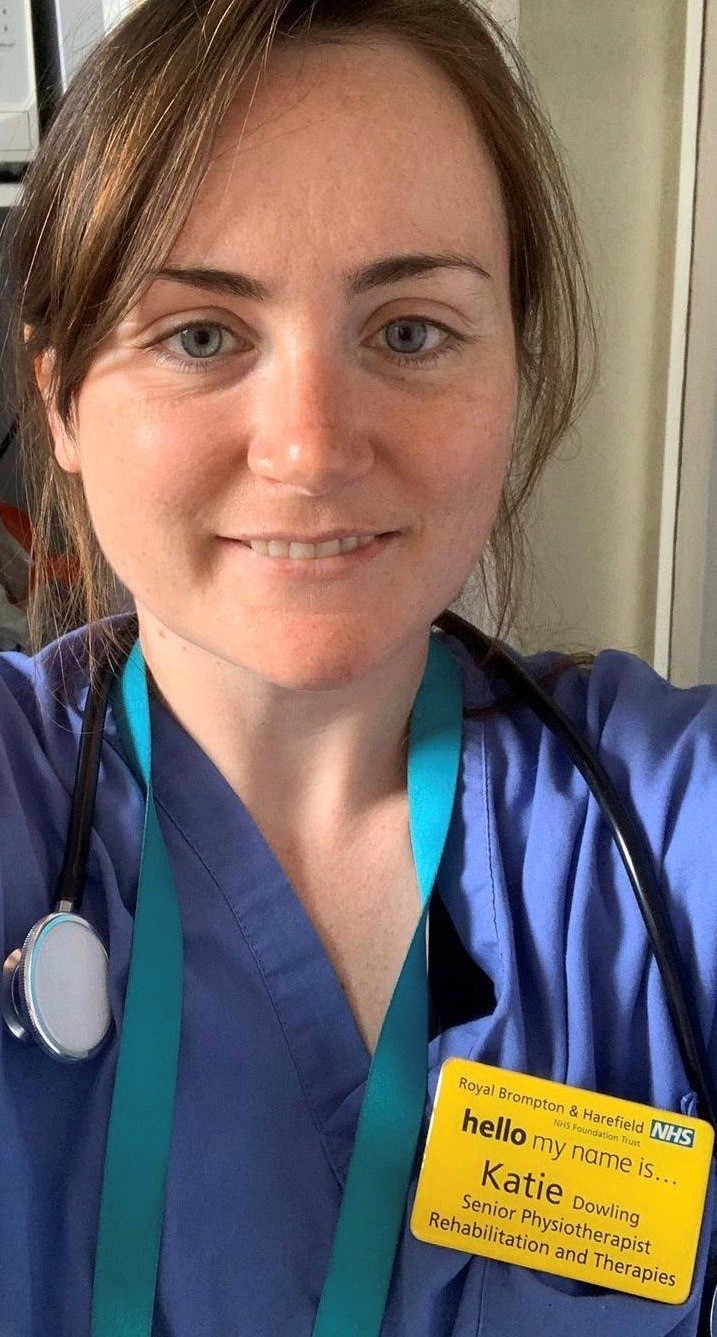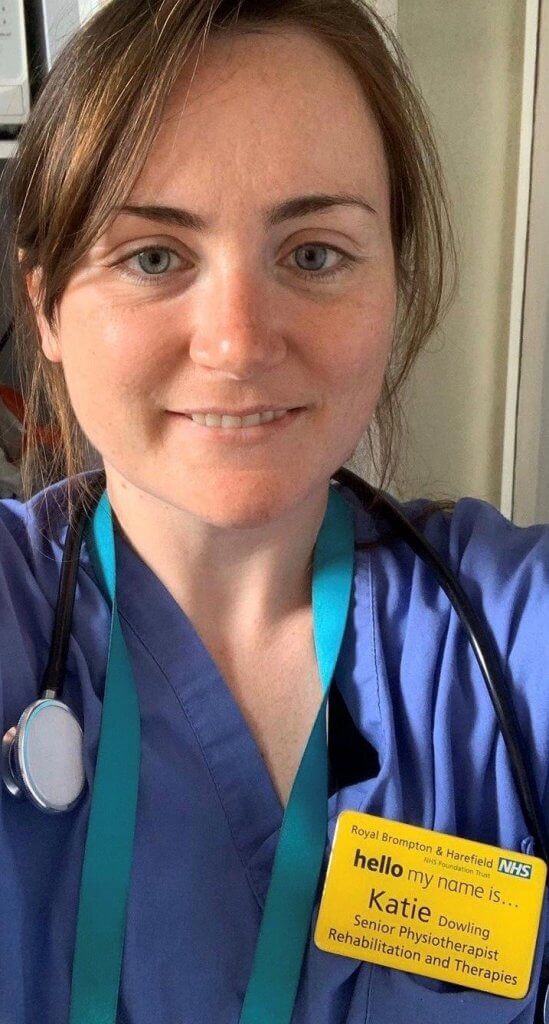 What does the job involve and what is your remit?
I love my role as I get to see such a varied range of patients at different stages of their journey. On my critical care days, I see patients on intensive care or on the wards following surgery. It is so rewarding helping patients improve and recover following a period of illness.
On my PH days, prior to the pandemic I was seeing patients with pulmonary hypertension in clinics or on the ward. Now, I am completing virtual or phone reviews with patients well as starting to see some face-to-face again.
My role involves talking to patients about what exercise they can do, how to implement exercise into their lifestyle and how to make it enjoyable! As one of the designated centres within the national PH service, we see patients from across the UK. With this is mind, my work is varied and includes referring patients to local exercise groups or pulmonary rehab, implementing exercise programmes or offering support to be more active.
I am available to talk to patients on the phone or via email to offer support or advice whenever needed.
If a 'typical day' exists, what does it look like for you?
A typical day starts with a coffee and catching up on emails or any messages that have come in from patients. I catch up with the specialist nurses and doctors about new patients that they have seen during the week that they feel would benefit from some advice on exercise.
Ideally, I would like to see patients in person however at present, most of my work is done over the phone. I speak to new patients and catch up with patients that I have previously spoken to see how they are getting on. I complete any paperwork or referrals that I need to do and try to stay organised!
It's been eight months since you started the role within the PH service. How are you finding it so far?
So far so good! The team are a great bunch of people who balance working hard alongside having fun in the office. They are definitely very excited to have a physiotherapist within the team. The most rewarding part of my job is hearing feedback from patients about what they managed to do since our last conversation, or even just increasing their knowledge about how to exercise safely with pulmonary hypertension. Some patients have an element of anxiety about exercise and what they can and can't do, so it is really important to have those discussions and be a point of contact for them.
What I like about my role is the variety of patients that I see of all ages, with different underlying health conditions and different abilities. One patient who was in hospital in January and limited by breathlessness is now completing an exercise programme daily at home and walking more each week. We email or speak on the phone every few months to discuss her programme and progressions.
We encouraged another younger patient to get into the gym with a personal trainer, following discussions with the PH team. He was able to exercise a lot more than he originally thought and was really pleased.
Finally, why is physical activity so important for people living with PH?
Exercise is important for all of us! By exercising, you are working on your muscle strength and efficiency but also on your heart and lung function. More efficient muscles allow us to do more. Exercise also makes us feel good in ourselves and helps to lift our mood.
When you are living with a chronic condition such as PH and you are already breathless, it can be scary to do something that makes you more breathless. Becoming a little bit breathless on exercise is normal and we encourage it, as long as it is the right amount. It is important not to push yourself too hard and to talk to your specialist team before starting any new exercise regime.
ABOUT KATIE
Katie grew up in Ireland and moved to England in 2007 to study physiotherapy at the University of Brighton.
After spending five years working in hospitals in the South East of England, she felt sure that cardiorespiratory physiotherapy was the area for her, and in 2015 moved to London to start work at the Royal Brompton Hospital.
Katie practices what she preaches; swimming regularly, taking part in exercise classes, and marathon training too. She also enjoys reading, travelling (when possible!) and the occasional gin and tonic.
Other Features You May Be Interested In