Charlotte Goldthorpe looks at how mobility scooters are giving some PH patients back their independence, and considers what you need to take into account when making the decision to climb on board.
Using an electric scooter can make a great deal of difference to your quality of life, enabling you to get around independently.
Like most vehicles though, they don't always come cheap, with prices ranging from £400 for basic models, up to over £5,000 for top-of-the-range machines. It's also possible to buy them second-hand.
The good news is there's a charity scheme which can help people who are receiving the highest rate for the mobility component of their Disability Living Allowance (DLA).
Motability, which has affiliations with many motorised scooter retailers across the UK, enables people to get mobile by exchanging their allowance to lease a mobility scooter, car or powered wheelchair. PHA UK can also sometimes provide small grants to assist with equipment like mobility scooters.
PH patient Gill Luck started using a scooter after using a wheelchair. She said: "I felt like an invalid when having to use a wheelchair, whereas a scooter gives me a feeling of independence rather than being a burden. It's fun and lots of family and friends want to have a go. I still have to use a wheelchair in some situations but can accept that."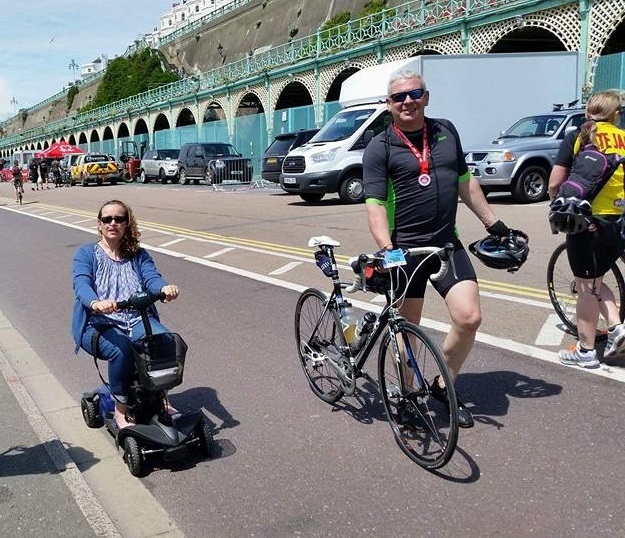 Gill opted for a lightweight model as it is often loaded into her husband's car when they go out and about. She added: "In having a lightweight one you obviously compromise on distance range and stability. If you want a bigger, more stable one you might have to install a hoist into your car and have a bigger boot. It is worth researching the options fully. My first scooter was second hand but I did eventually buy one once I had become used to using one, ascertained how much I used it and what I used it for. My Dad now has my old one and loves it too."
Getting insured
Over the past few years it has been argued that it should be compulsory for those driving mobility scooters to be insured. However, as it stands, there is no such law. Owners of mobility scooters are advised to get insured to cover themselves in the event of an accident, theft or damage to their scooter.
There are a number of mobility scooter insurance companies on the market including Fish Insurance, Surewise.com and Blue Badge Mobility Insurance. When filling out the details for insurance, generic questions such as name, address and the type of scooter you own will be asked.
No matter where you are or what you are doing, accidents can and do happen. Through being insured, it will eliminate the fear of facing a costly legal battle if anything was to go wrong, or having to pay for a new scooter, and give you piece of mind when out and about on your scooter.
Rules of the road (and pavements!)
The Highway Code sets out rules for the use of mobility scooters on roads and pavements.
'Class 2' vehicles are those with an upper speed limit of 4mph and are designed to be used on pavements. 'Class 3' vehicles are those with an upper speed limit of 8mph and can be used on the road as well as the pavement. However, they must not travel faster than 4mph on pavements or in pedestrian areas.
They also must not be used on motorways, or on dual carriageways where the speed limit exceeds 50mph.For the full rules, visit www.gov.uk
Other Features You May Be Interested In