"I've realised that life can change in an instant"
Emma Garwood from Brighton was diagnosed with Chronic Thromboembolic Pulmonary Hypertension (CTEPH) following a pulmonary embolism. In this special blog, she shares the journey she has been on since.
"I started to become breathless in early 2017. During February to April I visited my doctor's surgery a number of times to try to establish the cause, and they kept putting it down to my asthma flaring up due to the cold weather.
I was given steroids and stronger asthma inhalers, but nothing was working. Before long I became so breathless that I couldn't walk up the stairs in my house without having to stop halfway to get my breath back.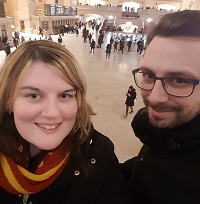 On 11th May I went for a CT scan that revealed a pulmonary embolism in my lungs. I was essentially breathing through a gap the size of a penny, and doctors were amazed that I was actually still alive.
After five days in hospital I was sent home and I am now on blood thinners for the rest of my life to ensure it doesn't happen again.
Unfortunately, as the clot was believed to be there for a long time, it has now left me with pulmonary hypertension.
The diagnosis was scary as I'd never heard of getting a blood clot in your lungs before, let alone pulmonary hypertension!
I think the whole thing has really made me realise that life can change in an instant.
After my diagnosis of PH I was told that at some point in my life I might need a pulmonary endarterectomy; which is a super scary prospect to me as it's very high risk surgery and involves a long recovery time.
I think a lot of the struggle comes with not knowing if and/or when I would need this surgery. Other than that, though, I tend to just get on with things. I'm very thankful that I'm still able to work and lead a fairly normal life; I just get a lot more breathless than other people!
I think my anxiety has heightened since diagnosis. I think because it took so long to get a diagnosis, I constantly worry that it might come back or get worse and so on.
I get a lot of support from my family, boyfriend and friends which makes it easier to deal with. I'm also in a few social media groups where people who have been diagnosed can discuss various things, so they don't feel alone. It really helps knowing you aren't the only one!
I've learnt a lot about the condition. I never really knew about it beforehand, but I know now that a pulmonary embolism is actually more common than people think. Reading the Emphasis magazine helps to see what support is out there, as well as making you realise that there are other people in your shoes.
I've also learnt a lot about myself; I definitely know that I'm a lot stronger than I thought I was. It's not always going to be easy, but I know that with the right people around me I can get through anything.
My best advice to anyone that's recently been diagnosed is to go on social media and find a group; talk to people and get an understanding of the fact that it affects everyone differently. Also, don't be afraid to admit that you need some support or help. It's a really scary time and things are so much easier when you have someone there you can talk to."
To submit a blog for consideration, please email media@phauk.org
Other Features You May Be Interested In