"It's a great feeling knowing you've probably saved someone's life"
17-year-old Billy Smith recently gave blood for the first time, following in the footsteps of his dad John. Billy shares his experience in this blog.
As soon as I hit 17, it was time to sign up to give blood. It runs in our family, as my dad John has done it for over 20 years and is now approaching his 80th donation.
I donated at the Holyrood Community Centre in Barnsley. You can check online to find the nearest donation centre in your area.
The first time was a bit daunting because I'm not a fan of needles (who is?). On arrival, I was greeted by a nurse who was surprised to see someone my age giving blood. Apparently, most people who do it are over 30. To check my blood was suitable for donation, the nurse pricked the end of my finger and tested to ensure that I had enough iron in my blood. I also had to be tested for malaria because I'd been to Africa in the past year. My blood passed the test and I was then taken for my donation.
It really is such a simple process. The nurse placed the needle into my left arm and then just under a pint of my blood was taken. I was asked to keep clenching my fist to maintain blood pressure and help my body recover, but once the needle was in my arm, I felt relaxed and it didn't feel like a medical environment at all.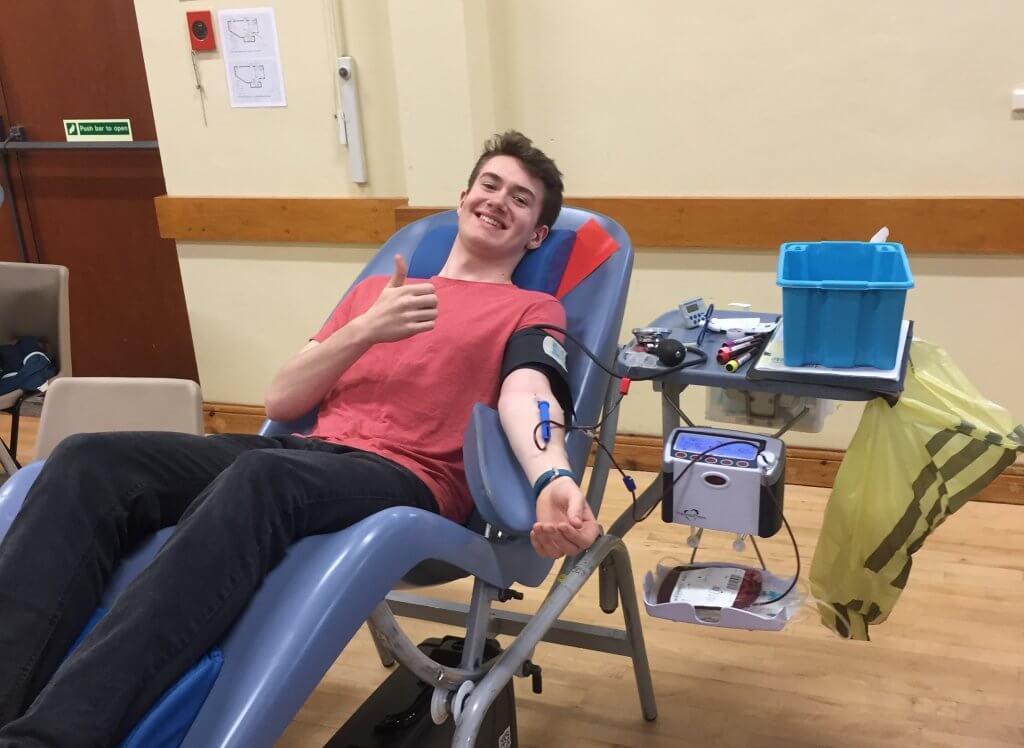 Afterwards, I was told to help myself to free coffee and biscuits. The nurses advise you to sit down for 15 minutes and have two drinks before leaving, to allow your body time to recover. It probably took a bit longer for me than somebody like my dad who has given blood for years. For the rest of the day I felt lethargic, as though I hadn't had enough sleep, so it's a good idea not to do any intense exercise until the following day. I felt a little bit of pain in my arm for a few days afterwards but nothing more.
I felt relaxed and it didn't feel like a medical environment at all
One of the best things about giving blood is that the NHS send you a text to let you know where your blood has been sent. Mine had gone to a hospital in Manchester. Receiving that text brought it home to me that giving blood is such an easy thing to do but the effect it has on someone else is huge.
Now that I've given blood, I've managed to persuade some of my friends to sign up. I don't think there's very much advertisement for giving blood, especially among young people. The amount of donations in the UK has fallen by 11,000 since 2016 so there's definitely a need for more donors.
I'll be back in three months to donate again. I've worked out that by the time I'm 50, I'll have reached 100 donations! It's so rewarding to think that just by giving away a pint of your blood, you could save someone's life.The NHS Blood and Transplant unit is in urgent need of more blood donors. Although you can't donate if you have PH, please consider showing this article to someone who is able to. Find out more here
Other Features You May Be Interested In