"I will tell my daughter that her daddy has been through a lot"
Clinical Nurse Specialist Amanuel Teklesenbet told us his extraordinary story of overcoming adversity and finding a career in pulmonary hypertension that he loves.
Amanuel did not take a well-trodden path into NHS nursing. Arriving in the UK from Africa as a 22-year-old refugee, he didn't speak a word of English and dedicated his life to learning the language, gaining GCSEs and training as a nurse. He now works as a Clinical Nurse Specialist at the Sheffield Pulmonary Vascular Disease Unit and is proudly proving to his young daughter than anything is possible.
Can you tell us a bit about coming to England?
There are lots of reasons that I wanted to leave Eritrea, mainly political and religious persecution. I was fearful for my safety.
I arrived in the UK on 30th October 2008 with a friend after a long journey which took a year from leaving my home. First, we travelled to Sudan, a neighbouring country of Eritrea, where we stayed for nine months. Then we had to travel across the Sahara Desert, with 24 of us packed in a little truck for nine days.
We then crossed Italy and France before arriving in the UK. The journey was difficult. We heard of people being locked in refrigerators in lorries, and people dying.
We arrived in Birmingham and went into police custody before going to a detention centre for processing near London, where I stayed for a couple of months. I was then moved to a centre in Barnsley, and then Sheffield, which is where I have stayed ever since.
What led you to nursing once you'd arrived?
In Eritrea I really wanted to become a footballer, but at the age of 18 I had to go into military service and become a first-aider.
When I arrived in the UK, communicating was my first priority as I didn't speak any English. In September 2009 I started college and explained about my background in first aid and said I'd like to be a nurse. As a Christian I believe in helping people, that's a very simple thing for me, so it felt right. I knew I wanted to be a nurse, but my English was rock bottom, so I worked very hard on it.
I spent three years learning the language and working hard on my reading and writing, which I am very proud of. I got my GCSEs in English, maths and science and was able to complete my nurse training at university.
How did you end up caring for people with PH?
After qualifying I started work at Sheffield's Royal Hallamshire Hospital in the Ear, Nose and Throat (ENT) department, and was seconded to the city's other hospital, the Northern General, to ease winter pressures. This is where I met a nurse that had also been seconded, from the Sheffield Pulmonary Vascular Disease Unit (SPVDU) at the Royal Hallamshire Hospital.
He told me about the unit's work with people with pulmonary hypertension and it felt like somewhere I wanted to be.
I knew nothing about PH at that point, but I completed extra training, including a medical education programme run by the PHA UK, and I joined the SPVDU as a Staff Nurse in May 2017.
I remember when it was first suggested to me that I should then apply for the role of Clinical Nurse Specialist in PH. I honestly didn't think I'd be able to do it, because English is my second language, so I decided I'd wait a few more years. But then I changed my mind and I thought 'why shouldn't I apply'? I'm so proud that I did it.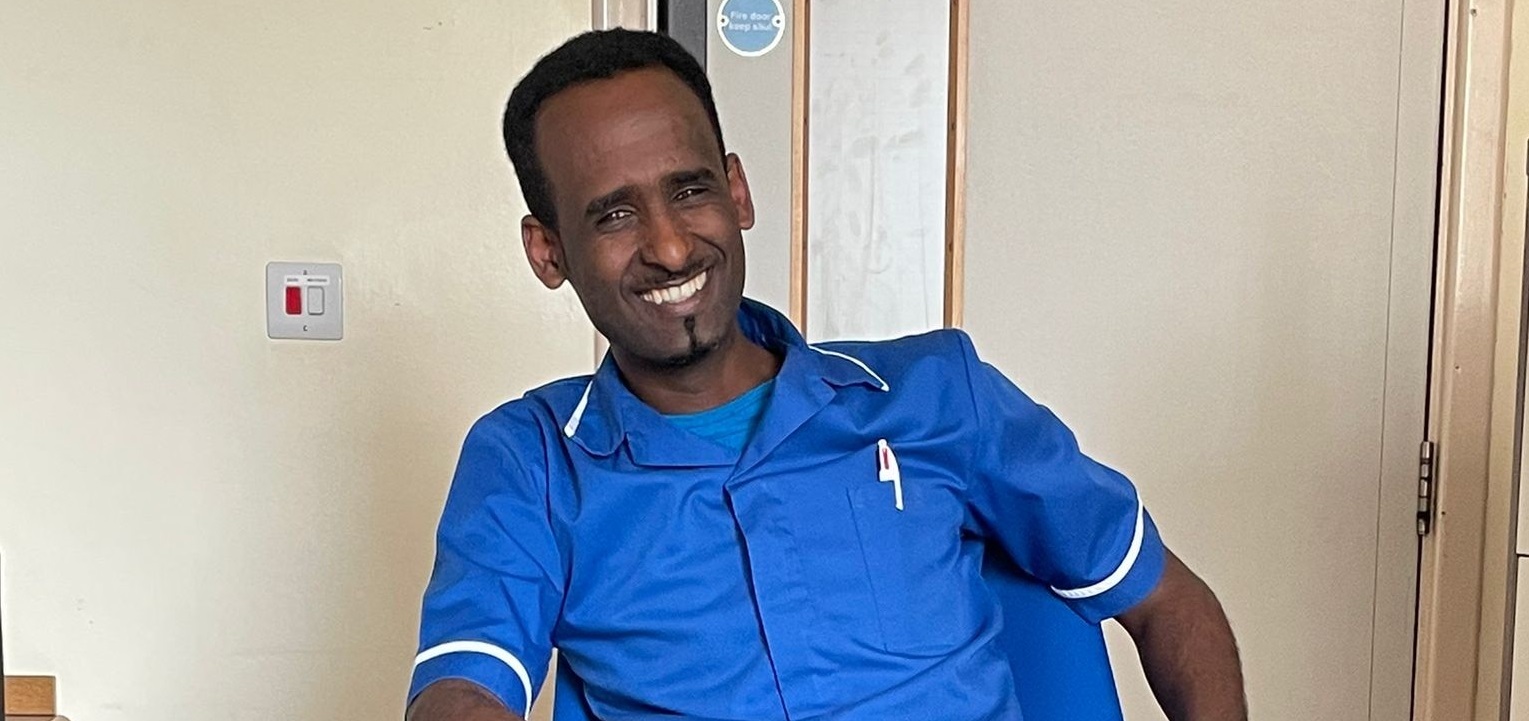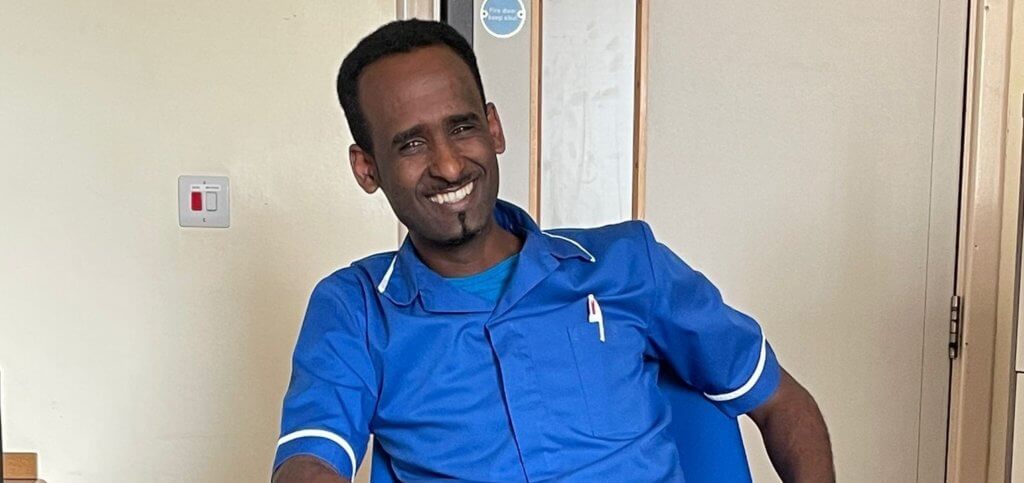 In my previous role in ENT we'd treat patients and then they would leave. But I'm able to develop relationships with PH patients; they come back to you, and they know you. You get to know them, and get to know their family members, and build up that relationship and trust. It's very rewarding.
During the early stages of the pandemic, I was moved to work on the covid ward and that was another challenge. As nurses we were working through the pandemic and then going home to live through the pandemic. You couldn't get away from it. I had a newborn baby, and it was all very worrying, but I'm proud of the part I played in helping patients during this critical time.
Have you felt welcomed by the UK?
People in the UK, and in Sheffield particularly, have been so welcoming to me. I did worry about whether it they would be. But I have lived here nearly 13 years and I can honestly tell you that I have never met anyone who has been unwelcoming or racist. I can gladly say that Sheffield people are the nicest!
Patients ask me about my history and my heritage, and I am very happy to tell them my story. Many of them are surprised to hear I came over as a refugee. It's nice to hear them say 'well done' and I hope my story helps change some misconceptions about refugees.
How does the UK healthcare system compare to healthcare in Eritrea?
In my country we are so poor. If you need a big operation, you must go abroad, and people ask for help on social media to raise the money.
I know of someone from Eritrea who came over to the UK and she wasn't accepted as a refugee, but she had serious heart problems. She needed an urgent operation and she had only been here a few weeks, but the NHS still saved her life.
Everyone knows how wonderful the NHS is. It is the best in the world.
What do you like to do away from work?
I enjoy running, and earlier this year I was part of an SPVDU team that completed the Sheffield Half Marathon for the PHA UK.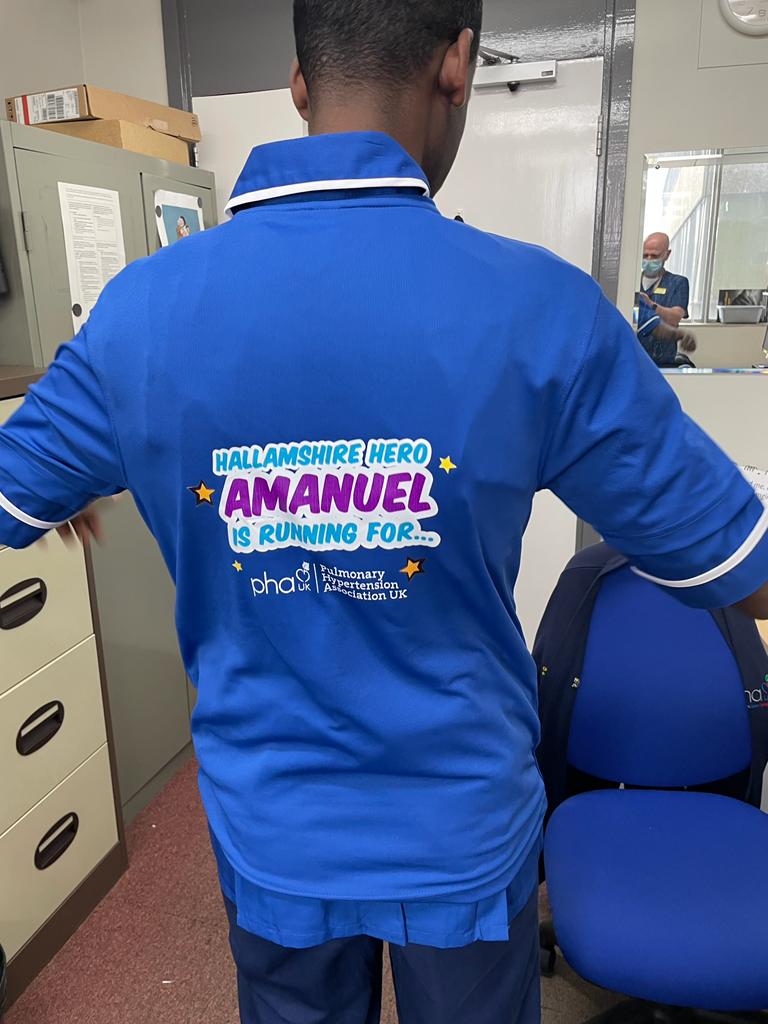 I also enjoy football and I go to Sheffield United matches sometimes with colleagues from the SPVDU. I play with an Eritrean community team, and I really enjoy cooking – especially breakfasts.
I also enjoy spending time with my family. I met my wife in London, and we married in 2019, and our daughter Peniel was born in 2020.
My brother lives in London but my parents are back in Eritrea. I try and go back there every three or four years, but it can be difficult. You can see people struggling, and it brings back memories.
How do you feel when you look back on your journey?
I'm so proud of what I've done since coming to the UK with nothing. I had no English and no experience, but to come out of my comfort zone and learn and speak and express, and develop my communication, is something I am very proud of.
Besides all of this, my proudest moment is my daughter being born. I'm absolutely looking forward to telling her my story. I will tell her she is here in England because her daddy had to come over all this way, and there are hundreds of stories I can tell her about my journey.
I will tell my daughter that her daddy has been through a lot, but anything is possible, and she can do anything she wants to – even if that's working for NASA!"
Other Features You May Be Interested In