"I was really happy when angioplasty was first mentioned"
Former nurse Mel Lee lives near Peterborough. She had a balloon pulmonary angioplasty procedure in 2019, following years of complex health problems culminating in a CTEPH diagnosis.
"I had breast cancer in 2002 and uterine cancer in 2005 and then in May 2007, I had a massive pulmonary embolism following a 50th birthday trip to South Africa.
Then in 2009 I had a further breast cancer diagnosis which resulted in mastectomy and implant. This was followed by a reconstruction in March 2011. Unfortunately, that didn't work, so I was having liposuction to replace the fat lost when I had a recurrence of the multiple bilateral pulmonary embolisms in September 2012. The doctors increased my warfarin target, but no other treatment was considered or advised at that time.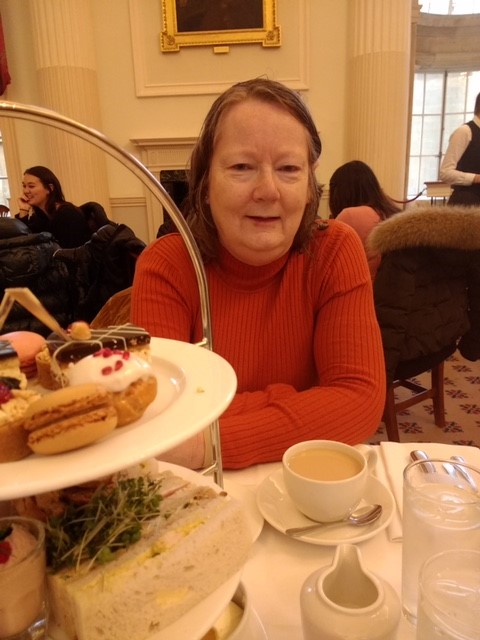 I began to get more breathless in 2015. I help with a lunch club and I started to find setting the tables difficult. I was getting dizzy, had palpitations and I was sweating in a circle around my head.
My ankles were swelling too, and I kept seeing my GP until finally I was referred to a respiratory consultant. By this point it was 2018 and I couldn't walk further than ten yards without becoming breathless and dizzy. My extremities were very cold if I came downstairs in the morning I had to rest before going to the kitchen for breakfast.
I was volunteering as a driver and befriending coordinator for a local charity at the time, and I had to stop driving which I loved as it gave me a reason to get out of the house.
After various tests I was finally diagnosed with CTEPH and given an urgent referral to a specialist centre. As a nurse, that felt really scary. I had never heard of CTEPH, although I had trained at a hospital where we did cardiothoracic surgery.
I had lots of further tests at Royal Papworth Hospital, and the diagnosis was explained properly to me. They also explained it to my sons, which was lovely.
But after the first trip to Papworth I came home, wrote my will and organised my funeral as I couldn't see there was a way out. So, when the angioplasty was first mentioned, quite early on, I was really happy that there was something that would be able to make me breathe much better.
I started medication and a left heart catheter was repeated every three months until the pressures were low enough for me to have the procedure.
I remember when I was having the angioplasty my blood pressure suddenly went back to what it was before all of this. They managed to get the large web in my pulmonary artery and the two big ones in my lungs, but unfortunately the small vessels were unable to be fixed.
I went home the day after the angioplasty and felt better quite quickly. It was about three months afterwards that I realised I wasn't having any palpitations or chest pain anymore. But I still can't walk very far before becoming breathless. Having lived alone for many years I've got used to doing things and then having to sit down afterwards.
If anyone else is in the same position as I was a few years ago, struggling for a diagnosis, I would say keep going back to the doctor and insist on being referred to a specialist. My daughter will be doing a PhD in making diagnosis easier for CTEPH patients next year and I feel hugely proud that she might help others in my position."
About balloon pulmonary angioplasty
Balloon pulmonary angioplasty (BPA) has been available for five years and is a minimally invasive procedure that can be carried out when pulmonary endarterectomy is not an option. It is only offered at Royal Papworth Hospital.
During the procedure, an interventional cardiologist inserts a very fine wire into blood vessels in the lungs and guides a tiny balloon into position. The balloon is inflated, to around the size of a pea, for a few seconds to push the blockage aside and restore blood flow to the lung tissue. The balloon is then deflated and removed. This can be repeated several times in different parts of the lung during a single treatment session.
Other Features You May Be Interested In